The USA will have the Upper Mississippi River Valley (UMRV) AVA as the world's largest wine appellation region, effective 22nd July, 2009, covering four states of Minnesota, Illinois, Iowa and Wisconsin, with the treasury department approving the petition and granting permission on 22nd June.
AUTHOR NOTE: While researching my new Vol. 1 of DISCOVER! America's Great River Road, I heard talk of the application for a new wine "appellation" that would encompass the wines produced in the Upper Mississippi River Valley. The following announcement was just made internationally by the Indian (India) Wine Academy. Congratulations to our Upper Mississippi River wineries!! The announcement follows, which also explains an appellation."
Tobacco and Tax Bureau (TTB) regulations define a viticultural area (AVA) for American wine as a delimited grape-growing region distinguishable by geographical features, the boundaries of which have been recognized and defined in the regulations. These designations allow vintners and consumers to attribute a given quality, reputation, or other characteristic of a wine made from grapes grown in an area to its geographical origin.
The establishment of viticultural areas allows vintners to describe more accurately the origin of their wines to consumers and helps consumers to identify wines they may purchase. Establishment of a viticultural area is neither an approval nor an endorsement by TTB of the wine produced in that area.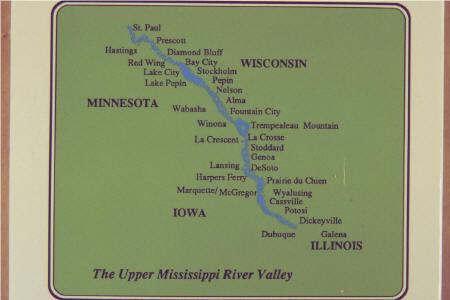 Representatives of the four states involved filed a petition to the Tobacco and Tax Bureau (TTB) in 2006 basing it upon the evidence of a glacial retreat 15,000 years ago in this region.
The total area included in the "appellation" is over 48, 000 sq kms will cover 193 kms across and 362 kms. from north to south and will encompass ten counties in Minnesota with the northern boundary beginning near St. Paul, Minnesota. Further covering eighteen counties in Iowa, twenty three in Wisconsin and nine counties in Illinois in the South, it will also encompass Moline, Illinois.
The new AVA is fifty times larger the area of the Bordeaux appellation in France.
The new Appellation contains a few producers who have already made a name for themselves. The first winery along the Mississippi River, the Alexis Bailly Vineyard and Winery, was opened in 1973 near Hastings, Minnesota. Its vineyards are considered to be at the very northern edge of where vineyards can survive. The Wollersheim Winery of Prairie du Sac, Wisconsin, for example, works with a range of grapes including Sangiovese and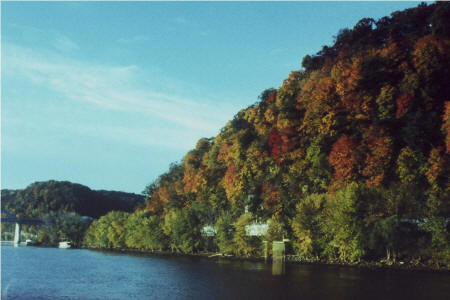 Bonarda grape varietals and has earned 267 medals over the past 20 years.
The climate of the Upper Mississippi Valley AVA is continental and cool. The nearby Mississippi River and its tributaries provide sloping lands that allows maximum exposure to the sun and for air to travel, keeping mildew at bay.