Monarch Butterflies: Destination Mexico
Table of Contents
Every year, in late summer and early fall, millions of monarch butterflies from the Eastern United States and Southern Canada begin a journey of 2000 miles to the Transvolcanic Mountain Range, located west of Mexico City. The Monarchs gather there to over-winter in huge colonies of tens of millions of butterflies, literally hanging from fir trees in clusters so thick they look like bundles of dead leaves.

The butterflies arrive in November and remain largely inactive until undertaking the return trip north in mid-March. How they find their way is a mystery because the monarchs that leave Mexico in spring are at least three generations removed from those that will make the journey back in the fall.

About 12 wintering sites have been identified in this mountain range of central Mexico. As the area opens up to accommodate tourism, options for making the trip have vastly improved.

The most visited sanctuary is El Rosario, and the best place to base yourself is the town of Angangueo, an old mining town. Seeing the butterflies, so thick that they sometimes BREAK tree branches (!) will require hikes of up to three hours, though it is not a strenuous hike. It is recommended that visitors hire a local guide or travel with a guided tour group.

If you travel independently:
If you approach from Brownsville, the first important city you will reach will be Ciudad Victoria, capital city of the state of Tamaulipas. By continuing on south you will cross the Tropic of Cancer at Jaumave, and at every mile you will notice more and more butterflies which often take the attention of even the disinterested tourist. At Ciudad Mante you will be at the very foot of the Sierra Madre Oriental range. Just south of Ciudad Mante the highway divides — one route goes to Tampico on the coast; the other veers southwest into the mountains towards Mexico City. Be sure to choose the latter route for best butterfly viewing. This route takes you to Nuevo Morelos and Ciudad Valles, and there is good butterfly viewing all the way from here down to Tamasunchale.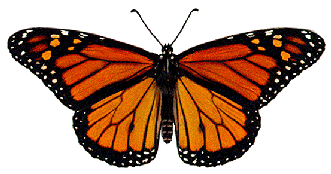 See our guided tour itinerary by clicking on the butterfly, left. It will give readers a good idea what to expect from a journey.
Rosario / Angangueo
From Mexico City, travel through the central highlands to the picturesque mountain village of Angangueo. The nearby Rosario Butterfly Sanctuary offers your first encounter with the king of the butterflies. The path is groomed, but sometimes fairly steep, trail with convenient benches for occasional rests. At the epicenter of millions of monarchs cover the tall oyamel and fir trees! Mexico's sanctuaries may be the only places in the world where you can actually hear butterflies' wings beating. Many Mexicans still hold the Aztec belief that the souls of the dead are reborn as monarchs.

Chincua / Angangueo
The Chincua Butterfly Sanctuary offers a second memorable experience with the monarchs. For those who choose, horses are available for this excursion. As Carlos Gottfried, president of Mexico's Monarca A.C., says, "When you stand in a monarch sanctuary, your soul is shaken and your life is changed." In Chincua, we ride our horses most of the way then walk down into the area of high butterfly density.

Piedra Herrada Sanctuary / Toluca / Mexico City
Relax in luxury at the luxurious Hotel Avandaro Spa & Resort in Valle de Bravo. A visit to the Piedra Herrada Sanctuary is the newest spot opened for viewing the monarchs. Once again, horses take us most of the way and we then walk, often through thick vegetation, to the spot where the butterflies are located. This area is "wilder" than the other two sanctuaries and often provides a more remote nature experience. During your return trip to Mexico City, stop in Toluca, originally an Indian settlement dating back to the 13th century.

Back to the Mississippi River Home Page
Monarch Migration Remains a Puzzle
Travel Insight Features