This practical guide by Riverlorian, Karen "Toots" Maloy explains a variety of river terms and navigation aids of interest to the Mississippi River boater. Buoys & Daymarks, Tows, Wing Dams, Channel Maintenance and Locks & Dams are just a few of the topics covered.
---
Wild River, Wooden Boats
by Mike Gillespie
True Stories of Steamboating on the Missouri River
from one of our favorite authors!

Dozens of historic photos, charts, maps and Illustrations.
Look for Mike on the Mississippi Queen this summer where he will be serving as a Discovery Guide!

---
Come Hell or High Water
by Michael Gillespie
A Lively History of Steamboating... with a delightful and informative anthology of accounts from steamboat passengers, crews and journalists of the 19th century. Personal accounts of all aspects of steamboat travel from the development and construction of vessels, to steamboat races, accidents and the pleasures of Mississippi & Ohio river travel.
---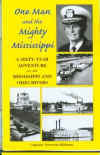 One Man and the Mighty Mississippi
by Capt. Norman Hillman
Captain Norman Hillman recounts his 60-year adventure as a professional riverboat pilot on America's Great Rivers.

---

Bluffs to Bayous by

Details
PADDLERS! Seasoned kayaker, Byron Curtis, details his 62-day journey on the Mississippi and Atchafallaya Basin. Includes daily notes, distances, gear list and more!
---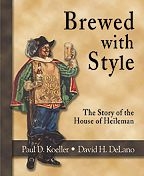 Brewed with Style, The Story of the "House of Heileman"
Whatever happened to Heileman Brewing of La Crosse, Wisconsin?!! This new 288-page book traces the history of G. Heileman Brewing from its humble beginnings to the saga of the company's fall from grace in the 1990s. A complete history of the company, its products, and the people who shaped it. Many historical photos.
---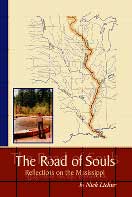 The Road of Souls by Nick Lichter
Nick's story is as magical as the Mississippi River... a travelogue... a collection of stories... and souls, that inhabit the river.
---
DVD: At the Water's Edge, Majestic Steamboats with Nick Clooney
Planning a River Cruise?
New River Boatin' DVD features a look backward at river boating history AND shares the experience of a Delta Queen Steamboat Cruise.

---
Mississippi River Activity Guide for Kids, with Teacher Notes
by Pat Middleton
Details
See Testimonials and our Complete RESOURCE KIT
"The Mississippi River Guide for Kids is impressive. The student workbook is chock full of facts, enrichment activities, and it's entertaining. I read it all in one sitting just for the information it contained! Outstanding for teachers and homeschooling parents."
--District Social Studies Curriculum Advisor, Sparta, Wisconsin
---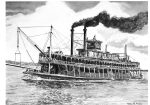 Frameable Steamboat Sketches
Details
Click her to see options
Framable sketches of 20+ historic riverboats.
Click to choose your option. $19.00 each

---
Marina and Harboar Amenities Listing
Vital marina contact information... where to find recreational fuel, contact info, amenities information, river mile location and more for the entire Mississippi River, the Illinois, AND the Ohio. Do not cruise the lower Mississippi River without this harbor list!

---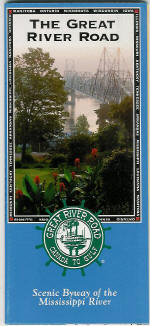 Poster-sized Travel Map for the Great River Road
Simple map includes a sentence about each town. Not a road or river map, but it does contain the entire Mississippi River Valley on one side of the map. That is not easy to find! Great for pinpointing your location as you use the Discover! Guidebooks or the River Charts.

---
Mississippi and Illinois River Charts
Details
Vital contact information, amenities information, river mile location and more for the Mississippi and Illinois Rivers. Please click DETAILS to see specific chart availability and pricing.

---
Subscribe to Greatriver.com

If you have enjoyed visiting our award-winning Mississippi River Home Page, consider subscribing TODAY.

Voluntary subscriptions are VITAL to keeping greatriver.com on line!

---
---