The Olympics will come to Vancouver BC, Canada, in 2010.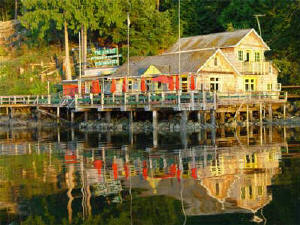 In our opinion, that makes the mellow, coastal fishing villages of British Columbia's "Sunshine Coast" one of the most endangered travel destinations on the North American continent!
Sunset at the End of the World Restaurant, Lund BC
The villages, inlets and Islands are located an easy drive and several beautiful, island-studded ferry crossings north of Vancouver along Hwy 101. We flew into Vancouver from the Midwest, rented a car at the airport, boarded our first ferry at Horseshoe Bay, and meandered along the 110 mile Sunshine Coast for a week, following Hwy 101 to Lund and Desolation Sound. We planned accommodations at secluded B&Bs priced from $130 to $180/night and enjoyed delicious fine dining that often rivaled the scenery for being memorably presented.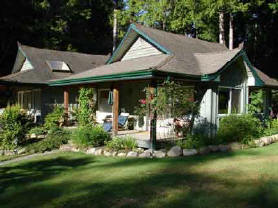 In January 2010 the mountains north of Vancouver, including the popular Whistler Ski Area, will host most of the Olympic events. The seaside villages will become "Olympic Villages", each housing athletes for the various winter sports. We tried to imagine how these gem-like destinations might be transformed by Olympic fever and a great influx of visitors from around the world. Surely the word will filter out to travelers everywhere, and one of the great destinations for scenic solitude will be no more.
My suggestion is to visit soon, before Olympic visitors overwhelm the harbor at Gibson's Landing, and the hiking trail to Skookumchuck Narrows. Stop for a nap on a deserted ocean beach. Visit one of many artist studios marked by a purple banner. Hike among old-growth giant western red cedar. Enjoy fresh fish and chips at a leisurely pace on the sun-spilled dock of a fishing village. The fjord-like scenery of the BC coast will always be fabulous, but I predict these comfortably warm-water beaches will never again be empty.
TO CONTINUE through the sequence of ten short pieces on traveling the "Sunshine Coast," Please scroll down through the rest of this article. Click the CONTINUE button at the end of the page to move on to the next short feature. There is a link to the Sunshine Coast map and other informational links on each page. You may also COMMENT on this story by clicking the envelope at the top of the page. Enjoy!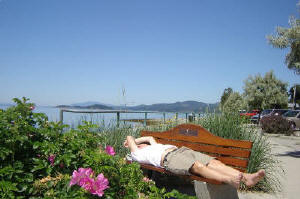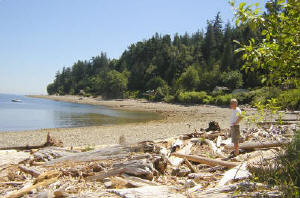 Beaches along the strait are referred to as "bars". Most were nearly empty, except for driftwood.
Map of the Sunshine Coast of British Columbia.
Click on thumbnail to see a larger copy.

Steveston on the Fraser River Estuary (about 20 minutes south of Vancouver)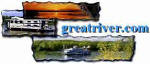 Return to
Waterway Cruises Directory OR www.greatriver.com