Camargue/Provence
Tourism Info and the Last Word
by Pat Middleton
© Part 5 of 5
[ Please Click Banner Below to Visit our Sponsor! ]
First, the Last Word...
Agriculture in the Camargue
Well, I still haven't covered the production of rice, salt, or commercial fishing in the Camargue--all of which add to the general interest of the area. There are very few fisherman, mostly poling small punts through the "etangs" or shallow lagoons to set nets. They typically harvest eel, pike-perch, and mullet. Sole and shrimp may be available when water is salty and some collect "tellines", little shell fish on the beaches.
Rice fields are still extensive in the Camargue, and are being piggy-backed with the production of "crayfish." Today, rice production is only about a third of what it was in the 1970s. The salt pans are generally located west of les Saintes-Maries de la Mer, where sea water is moved slowly through long evaporation canals, until finally only the salt is left.
Other Activities
Hiking and biking are both popular activities throughout the Camargue and Provence in general. Guided tours of various sorts are available in the village of Stes. Maries-de-la-Mer. And then there is Arles, just 36 km to the north, and all of the Roman structures, the wild flowers, and the history of Van Gogh.

First we didn't have enough TIME to see everything and now I don't have enough SPACE. :-)
You'll just need to come back for another visit!
L'Office du Tourism, Saintes-Maries-de-la-Mer
5 Avenue Van Gogh – BP 16, 13732 Les Stes Maries de la Mer
Camargue – France Tel 04.90.97.82.55 & from the USA: 00.33.4.90.97.82.55
Fax: 04.90.97.71.15 & from the USA: 00.33.4.90.97.71.15
EMAIL: saintes-maries@enprovence.com
Web site: http://www.saintes-maries-camargue.enprovence.com/welcome.htm
WHAT TO SEE:
Fortified Romanesque church and the Ste. Sarah Crypt,
Baroncelli Museum ( history and traditions of the village),
Pioch Badet Tzigane Museum
MUSEE CAMARGUAIS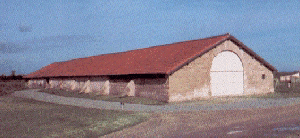 Route d'Arles – 13460 Stes Maries de la Mer
Tel 04.90.97.87.60 Fax 04.90.97.12.07

PARC ORNITHOLOGIQUE
Le Pont de Gau, Rte d'Arles 13460 Stes Maries de la Mer
Tel: 04.90.97.82.62 or Fax: 04.90.97.74.77

Parc Regionale de Camargue
http://www.parcs-naturels-regionaux.tm.fr/
Very nice overview of history of
the Camargue

Maison du Parc - Mas du Pont de Rousty -
Route des Stes-Maries de la Mer - 13200 Arles
Tél. 04 90 97 10 40 - Fax. 04 90 97 12 07
Info. touristiques : 04 90 97 86 32

Centre d'information de Ginès
13460 Les Saintes-Maries-de-la-Mer. Tél. : 04 90 97 86 32.

There are many horse riding stables, Sail clubs, Kayaking Clubs, Scooter rentals, private beaches, etc. in area.

Excellent Internet Overview of villages in Provence/Camargue:
provenceweb.fr/e/bouches/villages.htm

WHERE TO STAY:
Hotel L'Etrier Camarguais***NN

Chemin Bas des Launes
13460 Saintes Maries de la Mer
Tel: 01133-04.90.97.81.14

What to Do:

Manade Arnaud Gilbert
BULLS/WHITE HORSES/DUDE RANCH EXPERIENCE
Mas Lou Rayas, Rte de Sylvereal – 13460 Stes Maries de la Mer
Telephone: 04.14.46.29.77 or 04.90.97.99.20 Fax 04.90.97.12.32 (Stephanie)

General Information on Horseback Riding Opportunities and guided trailrides in the Camargue.
Telephone : 04 90 97 83 23.

ATC Tiki III - Stern Wheeler on the Petite Rhone
Le Grau d'Orgon – 13460 Stes Maries de la Mer
Tel 04.90.97.81.68/ 04.90.97.81.22 Fax: 04.90.97.99.47

ARLES, Ancient Port City
Office du Tourisme
Blvd des Lices
13200 Arles
Tel 04.90.18.47.20

Web for Provence/Camargue:
http://www.provenceweb.fr/
Overview, lodging, etc.

Hotel le Calendal
22, Place Pomme
13200 Arles
Tel 04.90.96.
We enjoyed the very private outdoor
garden enclosed by a medieval city
wall. Easy walking distance to the
Roman Arena & Theatre

Tarascon Office du Tourisme
59 rue des Halles
13150 Tarascon
Tel 04.90.91.03.52
Ask about a guided visit to
the original Souleiado Factory,
and the picturesque
Castle of Tarascon overlooking the Rhone.

ORANGE
Hotel le Glacier
Cours Aristide Briand
84100 Orange
Tel 04.90.34.02.01
Fax 04.90.51.13.80


Les Gites de France
For information on comfortable rooms, cottages, and B&B's in S France contact:
Les Gites de France,
Domaine du Vergon, BP 26, 13370 Mallemort. Tél. : 04 90 59 18 05.

In the Swiss Alps

LAUSANNE, Source


Hotel La Residence **** Hotel-Restaurant
Place du Port 15
CH-1000 Lausanne 6 - Ouchy
Email: direction.residence@brp.ch
Fax 41.21/613.34.35
Tel 41.21/613.34.34


Chateau de Chillon
Montreux-Veytaux (Lausanne)