CLASSIC TRAIN JOURNEYS

We also Recommend: Canada's Via Rail from Vancouver to Jasper
The Empire Builder and the Izaac Walton Lodge, Glacier National Park
Click link to see all our comprehensive Travel Reviews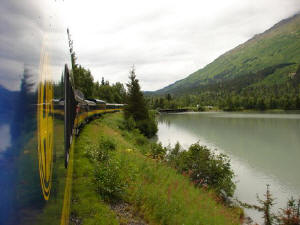 Anchorage to Seward, Alaska
"All Aboard!" Alaska Railroad
It is easy to forget that "travel" is not always synonymous with "Tour". If you have one day free in Anchorage, call Alaska Railroad before you leave to make a reservation for the 12-hour Anchorage/Seward round trip. Arrive at the downtown depot by 6 a.m., get back by sunset (around 9:30), and you will have sampled the best of Alaska in one short journey!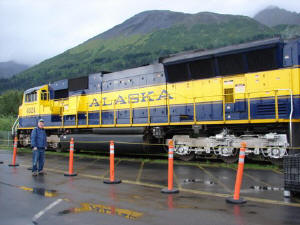 Our train journey on the scenic Alaska Railroad from Anchorage to Seward and back was a one-day, memorable trip that had nothing to do with "Princess or Holiday" or any other tour organizer. Rich and I made our reservations before leaving Wisconsin by visiting Alaska Railroad. The railway provided a memorable day of 114 miles of Alaskan scenery from mountain passes to sea harbor that competed nicely with every wonderful experience we recently had in Alaska.
Once at the harbor in Seward, advance reservations will also get one on a 3-4 hour cruise on Resurrection Bay and Prince William Sound. This is a great opportunity to see a dozen or more Glaciers calving into the sea before returning on the train at 5:30 p.m. We returned to the depot about 10 p.m. feeling that this had been a day of classic Alaskan adventure.
Our train reservation required us to be at the depot by 6 a.m. The train departed at 6:30 a.m. Breakfast and dinner were both served on the train, ordered from a menu. We were looking forward to lunch of fresh fish on the docks at Seward... most particularly at Ray's. Because some rain is almost a certainty each day along the coast, be sure to bring rain gear. Alaska's weather is variable and extreme, so plan to dress in layers that allow you to be comfortable in warm, wet, or cool conditions.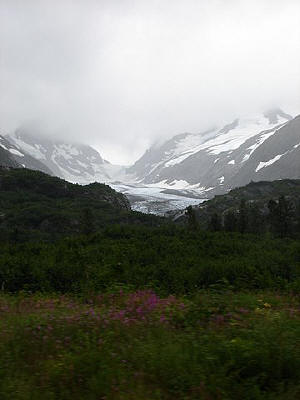 The Anchorage/Seward route is considered to be the most scenic run available with the Alaskan Railroad. The Anchorage/Denali run is the most popular. I liked that we would see our first glaciers and our first look at the sea on this route that left Anchorage, followed Turnagain Arm to the ghost forests of Girdwood, up through the beautiful glaciers via 3% S-curves, and then down into Resurrection Bay, Seward's picturesque harbor, and the Alaskan Sea Life Center sponsored by Exxon Oil.
Glaciers and scenic glacial lakes hugged the rail along the 114-mile Anchorage to Seward Alaska Route.
Bird Creek (fishermen, below) is a well-known salmon run...
well-known to man and to bear.
Despite vast unpopulated regions, Alaskans use a form of fishing known as "combat fishing."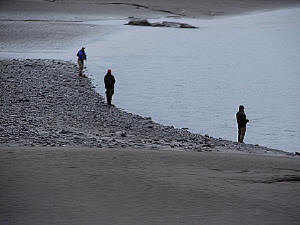 "It's every man for himself as the salmon rush the freshwater creeks in August."
We appreciated the guides located in each rail car. They had been well-trained in their heritage and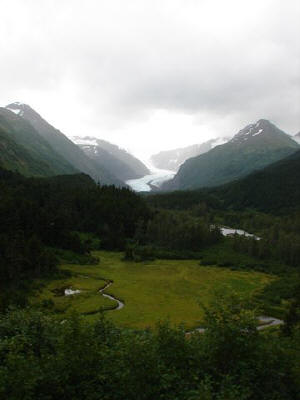 natural history spiel along the route. We learned that the glacial silt beaches of Turnagain Arm were concrete-solid in low tide, but in high tide became a type of deadly quicksand trapping anyone foolish enough to ignore warnings posted along the beach. The tide returns imperceptivity through the glacial particles long before it can be seen on the surface. It is nearly impossible for rescuers to extricate someone who had begun the slow descent into the glacial silt. Later, when I spoke to a resident Alaskan, she confirmed that yes, it was deadly. On occasion a helicopter would be used to assist in desperate rescue attempts. On two occasions, the individual had been torn in half.
The guides also told us about the occasional "bore tide", a very high tide that drew kayakers and surfers to ride the white water along the whole of the long Arm. We actually saw that tide, 6 feet high, with attendant kayakers and surfers... and some 60 of the dolphin-like Beluga whales following behind it...most likely on the hunt for salmon! We were told that because there are only some 300+ individuals in this local, non-migrating species of Beluga whale, we had likely seen a good portion of the entire population!
Near Girdwood, we were entertained by remnant "ghost forests" left by the earthquake of 1966. These forests had dropped some 50 feet after the earthquake and absorbed a great deal of salt water which not only killed them, but preserved the wood. They will stand white and silent for many decades into the future.
Most beautiful for the Alaskan "newbie" are the glaciers which are truly everywhere in Alaska. We learned to recognize "medial glaciers" by the black line of debris between two adjoining glacial flows. We saw our first icebergs floating free of the glaciers into lakes and rivers. We passed settlements replete with bush planes on huge glacial lakes. And endless forested mountains of deep green.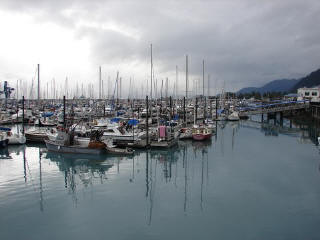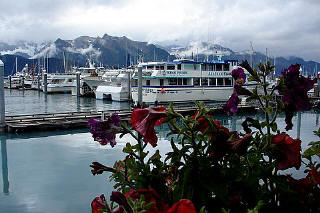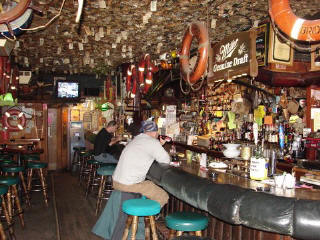 SEWARD was a delight and by passing on the glacier tour-boats (we were planning to spend a week on Prince William Sound later in our visit) we had just enough time to meander around the docks, chat with salmon fishermen lining the shore, and then tour the Alaskan Sea Life Center.
Ray's certainly lived up to its reputation, but there were many other restaurants near the docks, all of which offered fresh local salmon and other sea fare.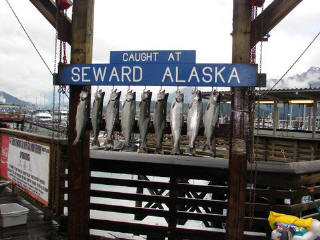 We enjoyed hanging out a bit at the fish-cleaning tables on the elevated dock where local guides made quick work of cleaning client catches and tossing the remains into an entrails barge below. There was a culvert near the camping area that roiled with salmon making their way into fresh water streams for spawning. Our late August travels put us right in the midst of the salmon runs.
The Alaskan Sea Life Center was built with funding from Exxon Oil after the oil spill from the Exxon Valdez. The glitzy collection of sea and shore life from Fishes of the Bering Sea, to a Seabird Habitat in a 105,000 gallon exhibit, certainly promoted care and preservation of treasured Alaskan wildlife, but there was very little mention of the oil spill, the care of animals afterward (Seward was a major rehab site), or the role of Exxon Oil in the natural disaster.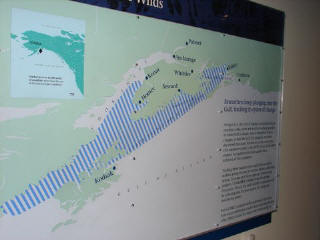 Blue Stripes in the picture to left indicate the extent of the Exxon Valdez Oil Spill.
One woman, a volunteer docent, said the spill was a real "eye-opener" for residents in the area and galvanized a great local interest in the care and protection of sea life and shore birds.
"The puffins were brought here for cleanup, and the sea otters. The oil was devastating for both of them. Many of the locals volunteered to help. We were truly shocked. I'm happy to be working here at the Aquarium. It helps me to educate the next generation."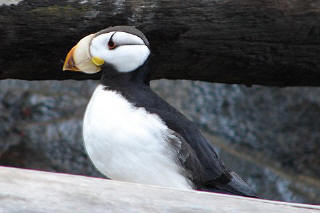 Puffins, common murres, black oystercatchers and pigeon guillemots live and breed here in the exhibit, along with harbor seals, Steller Sea Lions, and sea otters. I enjoyed the tide pool that allowed us to touch live sea anemones and other tide pool creatures.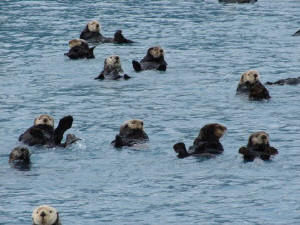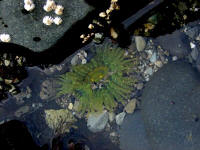 It was interested to note that like other creatures in the "touching pool" the delicate anemones barely reacted to being touched. They simply ignored our poking and stroking and went about their feeding and whatever else it is that anemones, starfish and sea urchins do!
We found it amazing that the Alaskan seas are filled with jelly fish, sharks, anemones. Who would think that such seemingly delicate creatures could thrive here among glaciers as well as in Caribbean islands??
The late Alaskan sunset meant we had good light for most of our return trip to Anchorage, but it was pretty hard to keep those eyes open!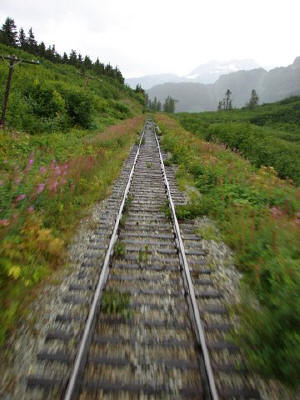 For More CLASSIC TRAIN JOURNEYS, VISIT:
Canada's Via Rail from Vancouver to Jasper
or The Empire Builder and the Izaac Walton Lodge, Glacier National Park
Click link to see all our comprehensive Travel Reviews
Return to the Mississippi River Home Pages at www.greatriver.com