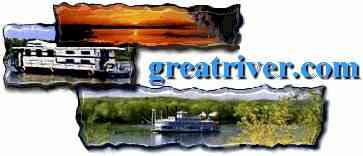 CONCISE INDEX to TRAVEL INSIGHT FEATURES for the MISSISSIPPI RIVER and other great world waterways.
Waterway Cruise Reports by Pat and Richard Middleton
Galapagos Islands and South/Central America
We found the all American crew, highly experienced staff, and seasoned travel passengers to be delightful companions on this small boat adventure!! This was NOT cruising from port city to port city, but included extensive river explorations, hikes, birding, and snorkeling expeditions along the Barrier Reef with experienced guides. Just a beautiful and outstanding adventure!




Cruising with Quasar Expeditions on the Galapagos

EVOLUTION
WATERWAY CRUISE REPORT. All Rights Reserved.

Let me say right up front that not since the old

Delta Queen Steamboat Company

(with whom I did at least 40 cruises as guest lecturer) have I been as impressed with a cruise operator. Quasar Expeditions, like the Delta Queen Steamboat Company, operates on passion... not only for their business, but for Ecuador and the Galapagos, and for their GUESTS.
See also: DO IT NOW! and DO IT AT DISCOUNT!
Birding and Beaching in Panama. Sunrise over the Pacific, wildlife and birds such as we only dreamed of in Costa Rica and the Amazon... We've just returned from an excursion to Panama combined one week at the Playa Blanca all inclusive resort with a week in Panama's rainforest with a group of Midwestern birders. We posted our pictures online, will be working on verbiage for the rest of the month. But go ahead a take a look! We enjoyed the beach as well as we did the birding... plus $500 each member of the birding group went to support a bird banding station we visited in a national preserve.
ALASKA FRANCE GERMANY CANADA, MEXICO, CARIBBEAN, SOUTH AMERICA and GALAPAGOS ISL.,
UNITED STATES MAINLAND
CHINA
SPECIALTY TRAVEL: BIRDING TRAIN JOURNEYS HIKING FERRY TRAVEL RIVER CRUISING
RETURN TO THE MISSISSIPPI RIVER HOME PAGE at www.greatriver.com