$19.95 plus shipping.

COME HELL OR HIGH WATER
A Lively History of Steamboating by Michael Gillespie.
A delightful and informative anthology of accounts from steamboat passengers, crews and journalists of the 19th century. Personal accounts of all aspects of steamboat travel from the development and construction of vessels, to steamboat races, accidents and the pleasures of Mississippi & Ohio river travel.

Order online or call 888-255-7726 for immediate delivery
Click any cover for more details and order information! http://www.greatriver.com/order.htm
Discover!
America's Great River Road!
in three volumes, by River Author Pat Middleton

Each volume includes more than 250 pages of new river lore, travel information, geology and history information! These classic guides to Mississippi River Heritage, Natural History, and Recreation make great gifts for river buffs and your traveling friends, retirees, prospective employees--for birthdays, Christmas and other celebrations!

Volume 2, The Middle Mississippi
Dubuque to St. Louis $15.95 ISBN 09620823-9-2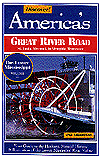 Volume 3, The Lower Mississippi
St. Louis to Memphis $15.95
ISBN 096208-23-6-8
And our best selling guide since 1987 (now in its 5th updated edition!)
Volume 1, The Upper Mississippi
St. Paul to Dubuque $16.95
ISBN 09620823-8-4



Available Now!! Looking for a good read from a real riverboat pilot? One Man and the Mighty Mississippi by Captain Norman Hillman records his 60-year adventure piloting riverboats on the Ohio, Mississippi and most other major rivers.
Easy, totally secure order options include:
SECURE CREDIT CARD PROCESSING,
Mail Order, Toll Free Order and On-Line Check Draft.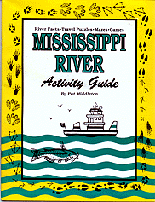 Now for KIDS and their parents, teachers, and homeschoolers!
The Mississippi River Activity Guide with Teacher guide, a river workbook $13.95 Ask for The Mississippi River Teacher Resource Kit (Available ONLY from Heritage Press!)

Official Navigation Charts for the Upper and Lower Mississippi River. 130 9 1/4" x 15" pages detail navigation aids, docks, river miles. On hand now for easy, fast ordering. Click on image, left, to see order page. We also have the Ohio and Tennessee Rivers and the Illinois Waterway IN STOCK for easy, fast ordering!!


True Stories of Steamboating on the Missouri River from steam historian, Michael Gillespie.

Dozens of historic photos, charts, maps and Illustrations

$15.95
Click here for order options.

For a complete line of Mississippi River books, please also visit our Mississippi River Bookstore by clicking on the Amazon symbol to the left!
Mississippi River Books

Instructors, here is your best source for ordering discounted Mark Twain books for classroom use!