Click a "Dock" to explore greatriver.com


Table of Contents For Mississippi River Travel
---
La Crosse Queen Riverboat Cruises
P.O. Box 1805, La Crosse, WI 54602-1805
608.784.8523 (group reservations)
608.784.2893 (individual reservations and boat dock)
Boat Dock: West end of State Street, downtown La Crosse on the North end of Riverside Park

EMAIL us: laxqueen@greatriver.com
Click here to visit our website!
---

Discover! America's Great River Road, Vols 1-4
by Pat Middleton
Your indispensable guidebooks to the Heritage, Natural History and Recreational Resources of the
Mississippi River Valley.
Order online at http://greatriver.com/order.htm or Phone 888-255-7726 during business hours.
Request our FREE 1600 word guide to traveling the Upper Mississippi River.
---

Beautifully Hand-Tinted
ANTIQUED RIVER MAPS 1746-1888
888-255-7726 or oldmaps@greatriver.com
See Samples at http://greatriver.com/oldmaps/
---

---

---

As seen in People Magazine...Visit Fountain City's
Rock in the House
What happens when the Bluffs throw rocks???

Located at 440 N. Shore Dr. (Hwy 35)
Fountain City, Wisconsin
Open 7 days a week from 10 a.m. to 6 p.m.
Handicapped accessible. Motorcoaches are welcomed!
Visit our website at http://www.greatriver.com/Rock/inhouse.htm

---

Visit Great River Road Wineries!

Click Here!

for more information on Winery tours, unique gifts, tasting rooms, and travel tips--all along America's Great River Road!
---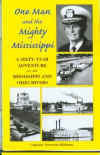 Interested in the life of a Towboat pilot? See One Man and the Mighty Mississippi by Capt. Norman Hillman. Or see our PILOT Feature Insight
---
For Complete info on Houseboat Rentals along the Upper Mississippi River visit http://greatriver.com/GRCruis
Call us to list your Houseboat Rental!
888-255-7726
---
---