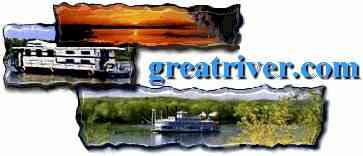 CONCISE INDEX to TRAVEL INSIGHT FEATURES for the MISSISSIPPI RIVER and other great world waterways.
Waterway Cruise Reports by Pat and Richard Middleton
Welcome to our extensive WATERWAY CRUISE REPORTS INDEX page!
The Waterway Cruise Reports page at www.greatriver.com is rated #1 by Google for Waterway Cruise Reports and SMALL BOAT Cruise Reports. Here you will find reports on our journeys on the Yangtze River, the Mosel, the Lez, the Rhine, the Amazon, the Frazer, the Canal du Midi and many, many more.
Nor is land travel exempt! We report to you on the ice fields of the Canadian Rockies, the Glaciers in Alaska, Hiking in southern France, and more. Click on a country, a form of travel, or visit our TRAVEL PHOTO GALLERY. Photos and note cards of our travels can be purchase at our online shopping cart.
SOUTH AMERICA, Including the GALAPAGOS Islands
UNITED STATES MAINLAND
(Columbia River, Mississippi River, Flathead River, Arkansas River Rafting, etc.)
SPECIALTY TRAVEL
RIVER CRUISING Around the World
(China, Amazon, Rhine, Mosel, Nile, etc.)
PHOTO JOURNALISM GALLERY
Let us know your comments which are now easy to post on our PHOTO ART SITE. Looking for a great photo to commemorate your trip to Alaska, Mexico, or the Caribbean? You'll find some of the best from traveler and photographer, Rich Middleton. We will gradually be posting our extensive travel photo collections at our site, www.greatriver.smugmug.com/Travel
RETURN TO THE MISSISSIPPI RIVER HOME PAGE at www.greatriver.com