A Recollection of the Christmas Holiday in Frontier Green Bay Army Colonel John Mc Neil. by Albert G. Ellis (possibly early 1820s)
The Colonel, an Eastern Yankee, learned that French people at the Bay celebrated Christmas as a high festival, so he decided to help his men and the citizenry honor the day in these "ends of the earth."
He sent formal invitations for dinner and a ball to everyone. Food was prepared for 100 guests and on Christmas Day a big hall at the Fort was filled with French, Indians, and Americans sharing holiday greetings.
Clothing ran from the latest Parisian styles to buckskin coats, pants, petticoats, and moccasins.
None of the elite considered himself over-dressed nor none of the citizens reproached himself with the least want of etiquette, or disrespect to their host, on account of costume or manner.
The dinner equaled one expected in a more civilized setting in quantity, if not in kind. Venison, bear meat, porcupine, geese, ducks, and many fish headed by the sturgeon, were offered for the main course. Dinner, dancing, and revelry latest throughout the Christmas night.
(I enjoyed discovering these two brief excerpts from the lives of Wisconsin explorers found in an anthology of essays adapted from WISCONSIN CHRISTMAS, edited by Terry R. Engels. And since porcupines are mentioned twice, I include a picture from this Winter in NW Wisconsin! Thank you, Laurie! ~ Pat)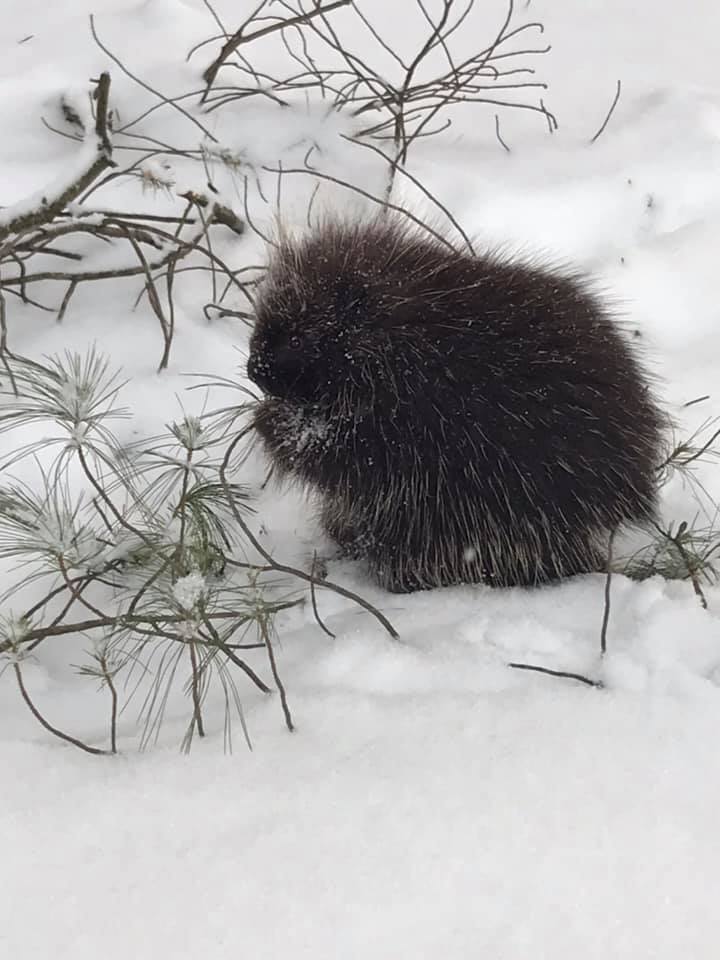 La Fete de Noel, by Father Paul LeJeunne, 1665
"The Lord gave us for our Christmas supper a porcupine large as a suckling pig, also a rabbit. It was not much for eighteen persons, but the Holy Family were not so well treated on this very day in Bethlehem."