ABOUT THE AUTHOR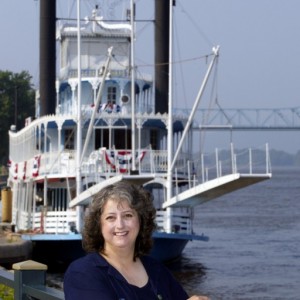 Pat Middleton is the founder/publisher of the Mississippi River Home Page at www.greatriver.com and Great River Publishing which has produced quality river heritage and natural history books since 1987.  All our river books, guidebooks, and river art can be seen at our Online Catalog.
Since 1989, Pat has shared her passion for the heritage and natural history of the river with passengers on the great cruising steamboats of American Rivers as a guest lecturer and natural history guide. She frequently speaks to teachers, students, and the general public about life along the Mississippi.
Discover! America's Great River Road, Vol. 1 guides the traveler.   from Minneapolis/St. Paul to Dubuque. Vol. 2 continues the journey from Dubuque to St. Louis. Volume 3 passes through the French Historic District and explores the Ohio River bottoms and the Delta. Vol. 4 follows the river through the deep south to the Gulf of Mexico.

Each book includes notes on special events, heritage and river lore, natural history and recreation along America's Great River Road.

Call 608-385-2510 to query or click this link to order from our web site!
We hope you enjoy visiting The Mississippi River Home Page at www.greatriver.com!!
ABOUT THE MAP ARTIST

Lisa Middleton began painting historic maps of the Mississippi River in 1996. Today, her hand-painted maps include her own distinctive Custom map creations and collections that include the Midwest, Northwest, Southwest, Southeast, and New England.
See and order from her entire collection HERE! See Lisa's informative blog and sign up for her entertaining newsletter at greatriverarts.com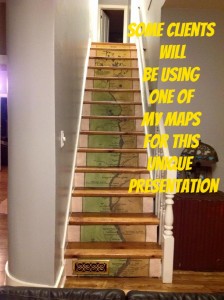 WHAT THE PRESS ARE SAYING ABOUT LISA's FINE ART MAPS….
"The most interesting appeal is the color and beauty of the maps. This is where Lisa Middleton…loves to use her special talent in color, blending and her sensitivity to the joys that maps hold for us as collectors." Sandy Erdman, Rochester Post Bulletin
"She's turned [that] fascination into an art — finding, restoring and replicating old maps, then creating art on top of the prints." Abby Eisenburg, Winona Daily News
"Middleton is doing more than making art, she's helping to preserve history."
Chris Peterson, Hungry Horse News.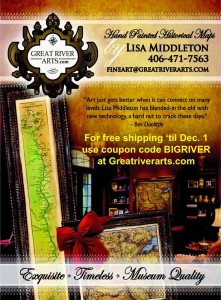 "In her hands, a torn black-and-white 1883
plat of Montana Territory blossoms into a
vividly colored snapshot of what the land
once was. It remains a map by definition, but
by execution it is now an ornate showpiece fit
for the living room wall, touched by an artist's
hand with its essential purpose still intact."
Myers Reese, Montana Quarterly Fall, 2014.
"Many different things can make a map
interesting. Sometimes many places on the
map have disappeared…Sometimes a map
reality and fantasy…'I like to work on maps
with history, maps of places people love, maps
that have stories,'Middleton said."
Big River Magazine, Summer 2013.