Map Maker, Lisa Middleton will be exhibiting her large collection of both Hand-painted Historic Midwestern Maps AND her beautiful NEW CUSTOM map paintings at ARTSPIRE in La Crosse, Wisconsin, on June 11. Attending art shows is a great way to meet artists and capture their vision for their work. Lisa attends juried art shows around the country. Hope to see you at ARTSPIRE of one of her Northwest shows this summer!
Custom-designed map of Fridley to Wabash shown above left.
SUMMER Show Schedule
June 11 Artspire, La Crosse WI   (Schedule continues after map images)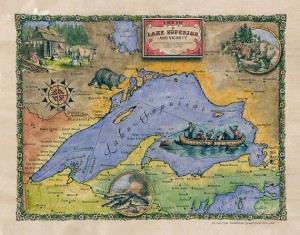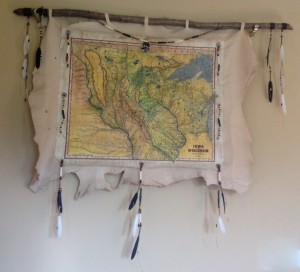 Lake Superior (L) and Iowa Territory on Buckskin (R)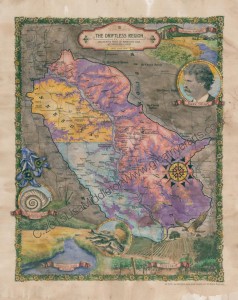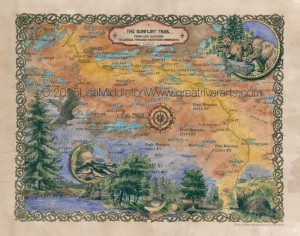 Driftless Area (L) and Gunflint Trail BW (R) above.
NORTHWEST SHOW SCHEDULE
June 26 Made Fair, Missoula MT
July 1-3 Whitefish 4th of July Art Festival, Whitefish MT
July 15-17 Hockaday Arts in the Park, Kalispell MT
August 5-7 Sweet Pea Festival of Arts, Bozeman MT
August 12-14 Jackson Hole Art Festival, Jackson MT
Watch for several historic maps painted by Lisa Middleton in an upcoming Minnesota Public Television documentary! One of them may already be on your wall!  Both the 1887 Ribbon map and De L'Isle's 1720's Carte de la Louisiane will be featured in this documentary about the Upper Mississippi River and Recreational national park unit.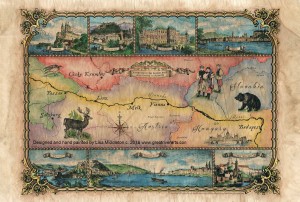 Danube River Souvenir Map (R)
See all Lisa's maps at www.greatriverarts.com