Tell your neighbors, tell your friends!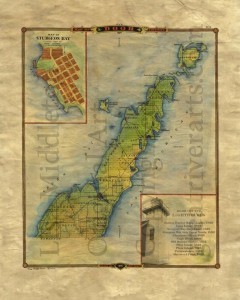 Map Artist, Lisa Middleton, will soon bring her collection of beautiful hand-painted maps to the Upper Mississippi. Her display schedule follows:
June 12-13 Artspire, La Crosse, WI
June 18-21 Prairie du Chien Rendezvous
June 29 Madison Cash and Carry Wholesale Mart
July 1-31 The WINE GUYZ, La Crosse, Wis. Art District. Lisa also expects to have a display on the RIVERFRONT during RIVERFEST
July 19 Stockholm Art Festival, Stockholm, WI
(Lisa's hand-painted maps and fine art prints are featured at the Abode Gallery year around)
Yes, Lisa will have originals and fine art prints available for purchase!
So what's the story behind Lisa Middleton's hand-painted historic art? Please visit www.greatriverarts.com to view several fascinating videos on the back story of Midwestern historic maps and their cartographers.