FERRYVILLE — The Ferryville Tourism Council will host its annual Fall Migration Day from 9 to 11 a.m. Saturday, Nov. 10, in River View Park on Highway 35.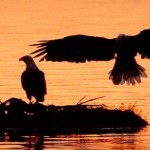 Additional birding events will be held beginning at 8 a.m. at the Driftless Center in Lansing, Iowa, and from 10 a.m. to 2 p.m. at the birding observation area at Brownsville, Minn., Hwy. 26, all on Nov. 10.
 If you haven't had the opportunity to explore the excellent DRIFTLESS CENTER in Lansing, Iowa, do take advantage of this opportunity. Enjoy the huge deck/porch that offers a wide view north toward the historic Lansing Bridge. There have been eagles in the vicinity each time I've visited.
Additionally, the displays capture our river heritage as well as any museum north of Dubuque.  Live snakes, including a timber rattler, our clamming heritage, driftless geography, commercial fishing and more. Great for kids AND adults.