My favorite birder and bird photographer has posted his report on Pool 8, below. According to Alan this is the time to see Tundra swans up close at the wayside south of Brownsville! Lots of ducks, Hawks, eagles, and Pelicans. Check in south of Goose Island on Wisconsin's Hyw 35 for more of the same!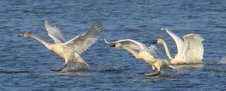 Greetings!
Things are finally picking up a bit on Pool 8 of the Mississippi with Tundra Swans now in close viewing distance from the Brownsville FWS Overlook. Of course, besides the swans there are plenty of other waterfowl to see as well as pelicans, eagles and other raptors.
My suggestion is that if you are thinking about going to Brownsville, this is the weekend to do it. Next week looks rainy (Mon-Wed) and then look out… It looks like our first taste of winter will be on our doorstep Thu/Fri and into next week. Looking at the computer models, they are consistently showing sharply colder temps and some of the models are showing measurable snow. The cold snap looks to last 5 days or so before moderation once again. Will it be enough to freeze up the river? Could be… or maybe not. If so, say good-bye to the show at Brownsville.
Alan Stankevitz
i wishicouldfly.com