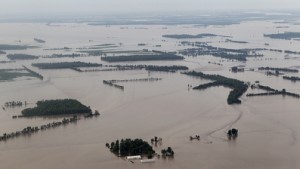 130,000 acres of agricultural land floods after a deliberate break in the Birds Point Levee south of Cairo.
The FLOOD OF 2011 is threatening to rival the flood of 1927!
I can't think of a more dangerous place to be in the world just now than at the confluence of the Ohio and Mississippi Rivers! Levees completely encircle the city of Cairo, forming an island during floods and the Mississippi River begins to back up into the Ohio River.
For an INTERACTIVE MAP of where flooding is at its worse, visit www.greatriver.com/FLOOD.htm
Some 60% of the water that flows through the U.S. passes through this confluence, including much of the deep south, via the north-flowing Tennessee and Cumberland Rivers. As this is the 150th anniversary of the Civil War, it is worth noting that General Grant named Cairo Fort Defiance when it was occupied by the Union Army.
See more stats on the major tributaries of the Mississippi River by visiting www.greatriver.com/tribs.htm To follow the progress of high water through the small towns of the Mississippi River, read Discover! America's Great River Road.