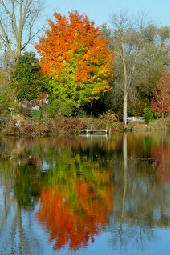 It's fall color time once again and we have color alerts for each of the ten river states along the Mississippi River. Visit http://www.greatriver.com/fallfoliage.htm
It's also the peak season for migrating birds, and vast gatherings of sandhill cranes, Pelicans, geese, herons and other river waterfowl gathering to head down river.
It's also the first time in 4 years that we can welcome the American Queen back onto the Upper Mississippi! The boat will be docking at Red Wing, La Crosse, Dubuque, Davenport, Burlington, Hannibal and St. Louis. Check the respective Visitor Bureaus for exact dates and time.