Our farm lies perched above a broad wetland valley. Back in the mid-80s I heard something we had never heard before, the unison calls of a pair of nesting sandhill cranes. When it was verified by our local conservation warden and by the University of Wisconsin, we could claim to have reported the first nesting pair of sandhill cranes in the La Crosse area in a very long time.
     Since then, our neighborhood has maintain a spring "Crane Watch."   Some of those dates and comments appear below. For more recent years, please use the SEARCH button to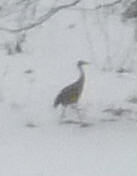 see stories about the cranes! The quote at the end of this piece is one of my favorites from Aldo Leopold.
3/2/2011 "Eight Sandhill Cranes arrived TODAY, making their earliest arrival in our records. Ground is still frozen with several inches of crusty snow. "
March 15, 2009  "Bitter cold night as late as 03/13/09. So cranes waited until we hit the 50 degree mark two days later.

"

March 12, 2008

 "

3 Sandhill cranes fly over Goose Island near La Crosse.
March 13, 2008  A Single crane flies, calling, over Coon Creek near Stoddard.   Lots of melting snow in the valley. Temp of 56.7 degrees. "                           

March 11, 2007 "Sandhill Cranes on the islands off Goose Island Park south of La Crosse. Temps in upper 40s, two weeks after record snowfalls in Western Wisconsin, so lots of snow on the ground. March 12 the cranes are reported along Coon Creek and other valleys off the Upper Mississippi River."                               

Feb 23, 2005  (a good two weeks earlier than normal!)
March 15, 2003
March 13, 2002
March 13, 2001
  March 16, 1999
March 1, 1998
March 10, 1997
March 13, 1996
March 18, 1993
April 4, 1992
March 9, 1988
March 17, 1987
Excerpt from

A Sand County Almanac

by Aldo Leopold
"The sadness discernible in some marshes arises, perhaps in their once having harbored cranes. Now they stand humbled, adrift in history.
"Someday, perhaps in the very process of our benefactions, perhaps in the fullness of geologic time, the last crane will trumpet his farewell and spiral skyward from the great marsh.
"High out of the clouds will fall the sound of hunting horns, the baying of the phantom pack, the tinkle of little bells, and then a silence never to be broken, unless perchance in some far away pasture of the milky way."
–Aldo Leopold, Marshland Elegy