If you have been considering a small boat cruise of the Galapagos Islands, there have been several recent developments that make the remainder of 2011 prime time for this destination. We returned from an excursion on the MV EVOLUTION (Galapagos Cruises from Quasar Expeditions) in May. So I can heartily recommend a cruise on the Galapagos EVOLUTION.
DO IT AT DISCOUNT
 AdventureSmith Explorations recently announced a special "Two for One Galapagos Cruise" for late summer /early fall on the 32-Passenger Galapagos EVOLUTION. 
Dates for these special cruises are Aug. 25-Sept. 4, Sept. 8-18, Sept. 15-25 and Sept. 22-Oct.1. The packages begin and end in colonial Quito, Ecuador, include an 8 day / 7 night Galapagos cruise, pre and post cruise Quito hotel accommodations, airport/hotel transfers, round trip flights from mainland Ecuador to the Galapagos Islands and a half day tour of the Quito's old town, a UNESCO designated World Heritage Site.
Departures (guaranteed when 16 guests have signed up for the program) start at $5,895 for the first traveler with the companion paying only $1,100 for extras (in-country air tickets, transit control card and park entrance fees) exclusive of the cruise rate. Phone: 800-728-2875 toll-free or 530-583-1775. Email: travel@AdventureSmithExplorations.com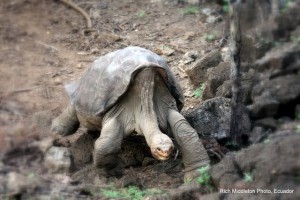 Need more info?
Quasar Expeditions offers a truly superb web site that will answer any questions you might have about planning, packing, and cruising the Galapagos… as well as customized land tours to extend your visit in Ecuador.
These folks KNOW cruising in the Galapagos Islands. Contact them online to learn of current special offers direct from Quasar Expeditions.
 Please revisit our RAMBLIN' ON blog, as we will begin some detailed posts about our excursion on the Galapagos EVOLUTION, and our visit to Quito and the "Avenue of the Volcanoes"
UP NEXT on Ramblin' On:
2011 is likely the last year the Galapagos National Park will allow cruises to encompass both the East and West Islands of the Galapagos in a one-week cruise. Another good reason to move the Galapagos to the top of your bucket list!! Click below….
Upcoming blog entries will share our Galapagos experiences with you!! So please return and join our conversation!
We also have some 30+ waterwaycruise destinations featured in our #1 rated WATERWAY CRUISE REPORTS at www.greatriver.com/waterwaycruises (click to visit!)
Click here to return to the MISSISSIPPI RIVER HOME PAGE at www.greatriver.com