Had the great joy this morning of seeing thousands of pristine white Tundra Swans along Wisconsin's Hwy 35, just to south of Goose Island!  The sky was full of flying swans as well as swans filling the ponds.  When I returned 1/2 an hour later, the skies were empty and there were fewer swans on the water.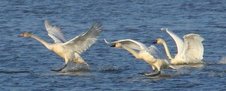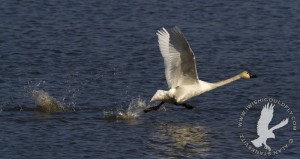 "So where did they go?" I asked another birder who was panning with his scope.
"Did you notice that the wind changed direction and picked up, since 11 a.m. ? That's what some of them were looking for. They've already resumed their migration to Chesapeake Bay."
I was also curious as to what he saw in the scope. "Any gray cignets (juveniles)?" He said, yes, a few, but indeed most were adults and most were not family groups. The first drop of migrating swans is normally the single swans rather than swans traveling with juveniles.
Finally, make a grand journey THIS WEEKEND along the Great River Road between Minneapolis/St. Paul and Dubuque, Ia.  In addition to Swans in the pools north of Genoa, American Bald Eagles are migrating and we are flush with both our resident eagles and the eagles moving down from the north (more on this in a later piece). Remember to visit the National Eagle Center in Wabasha, MN.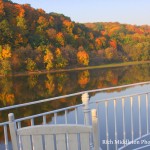 Fall Color will be in its waning weekend the next several days. Oaks are a rich rust color and some of the late coloring trees are still coming into color (it's all in the genes!)
So hit the road!! There is lots to see! and don't forget your copy of Discover! America's Great River Road by River Author, Pat Middleton... your guide to eagle watching, regional history, Treasure Hunting, commercial fishing, and more!!! Order your copy of each of the four volumes which lead travelers from St. Paul to the Gulf of Mexico by CLICKING HERE!