Welcome to the Mississippi River Fishing Report


with Mark Clements at the Genoa Fishing Barge
About our Mississippi River Fishing Report

As often as he can find the time, I receive an informative, and often fascinating, fishing report from Mark Clements at the Genoa, Wisconsin, fishing barge. If the fish are not biting, he tells us that and tells us why not. If they are biting, he tells us where and what on.

Our report now also includes a DAILY news summary of

Mississippi River Fishing News.

A note about the fishing barges: Commercial "fishing barges" are located on the upper Mississippi River below the Lock and Dam on most of the river pools. These fishing barges provide an opportunity for travelers to experience some of the best fishing in the Midwest for a minimal fee. The barges offer ferry service from shore to the barge. Fishing barges and access points are all noted in Discover! America's Great River Road.

Gotta tell you, a picture is worth 1000 words!!! Take a look at these fish photos from Clements Fishing Barge in Genoa, Wisconsin! Thanks, Mark!!!

Above is a picture at the fishing barge of a sturgeon caught on the Mississippi River, not far from La Crosse. Lake Sturgeon, by the way, must be released. Smaller river sturgeon are fair game. Wouldn't that give you a shock! So what's it like to catch a fish this big? Here's a You-Tube video of catching a giant catfish (and there we start a whole new set of urban legends!!) Check out our FISHING category in the

Mississippi River Blog!

Click here to see a video of fishing from a Barge:

http://www.wxow.com/global/video/flash/popupplayer.asp?vt1=v&clipFormat=flv&clipId1=4265546&at1=News&h1=Fishing&rnd=76141569







Jan, 10, 2012
from WXOW TV. "Warm Winter Fishing is GREAT!"





Genoa, Wisconsin (WXOW) - This warm weather is making it a good time to be a fisherman. With ice in some areas and open water in others, you can fish any way you want right now.

We talked to Mark Clements, owner of Captain Hook's Bait and Tackle, and he said this is one of the best winters in the 12 years he's been in business. He told us that everything on his walls is selling. Ice fishing gear, open water fishing gear, you name it. He has even had to keep more bait in stock than normal for this time of year, since both types of fishing are going strong right now.

Clements said, "Actually, this warm weather has been great for business. Normally winters can be kind of slow, but this year you have ice fishing in the sloughs and you have open water walleye and sauger fishing. So we're getting the best of both worlds right now."

Clements added that there were nearly 60 boats in the water and almost 100 people fishing on the ice over the weekend.

Oct, 11, 2011
"Try a Floating Jig!

The weather has just been way too nice! Can you believe this? Fun to fish in, but the fish arenít real pleased with it. A lot of bait fish have been moving up towards the dam and you know what that means, the game fish are right behind them. We have been getting lots of small walleye and sauger but until these temperatures start dropping it will continue to be a little slow. The weather is suppose to change today, cooler and wetter coming up, we need that. Still catching lots and lots of bluegills and would you believe, still getting crappie. I love it. We had 8 of them for supper the other night and they were big enough to feed the whole family. The walleye and sauger are coming in on minnows with a river rig or tipped on some hair jigs. Floating jigs are just now starting to work as well. As the water temperature drops the fishing will really pick up!

Click envelope to sign up to receive Mark's email directly in your inbox!

September 12, 2011


Fishing has been fantastic since we opened back up for fall fishing. There has been walleye, sauger (few), tons of bluegills, catfish, perch (already) and would you believe crappie! We havenít caught this many crappie in over 25 years! Not sure why, but I like it. Several of the walleye, all caught in the morning hours, were in the 26 to 28 inch lengths. Not too bad. Did I mention bluegills? We had several people leave today by 10 with their limits of bluegills. Not too bad...need to get the kids out here to catch some.

Love our Mississippi River?? Every volume of

DISCOVER! America's Great River Road

is filled with a variety of fascinating Mississippi River fact and lore.

All Volumes contain info on birding, wildlife viewing hotspots. Each highlights Geography, interpretive history and natural history attractions along the Great River Road.

Purchase ALL FOUR VOLUMES of Discover! America's Great River Road...


St. Paul, Minnesota, to Venice, Louisiana, individually signed by the author
$67.80

To Order, phone 888-255-7726,
Great River Publishing, La Crosse, WI
or visit www.greatriver.com/order.htm

"Having read

DISCOVER! America's Great River Road,

I cannot now imagine traveling the Mississippi River or the Great River Road without the maps, directions, narrative background, and detailed information they contain." ~ Reviewer,

Heartland Boating Magazine

All new format,

hundreds

of updated and expanded entries, new photos, maps, charts, and

INSIGHT FEATURES.

Volume 1 of Discover! America's Great River Road


St. Paul, Minnesota to Dubuque, Iowa

.


By River Author, Pat Middleton.


ISBN

0978-0-9711602-2-4 $19.95 240 travel and recreation-packed pages!



THE indispensable guide to traveling the Mississippi River and the Great River Road. River access, B&Bs, riverside cafes, historic & natural history notes.

"I grew up in Winona and someone gave me your river book when I retired. Now I see the river from a whole new perspective!" ~ Reader, Minnesota




We're FISHING on the Mississippi River! Use the SEARCH form below to find another TEN PAGES of links to fishing stories here on

WWW.GREATRIVER.COM
Custom Search
July 5, 2011
Another big surprise was hundreds of shovelnose sturgeon being caught! I canít remember when so many sturgeon were caught out on the barge before. It was great to see, because once they get hydro power established on the river the sturgeon population will decrease dramatically. We also caught a lot of rock sturgeon, you never saw so many people excited about landing these huge fish. This is the same fish that the company putting in hydro electric power, Symbiotics, is telling the federal government that our location hasnít had one around here in 10 years! See letter below to contact your representatives.
June 20, 2011 Mark's concerns about Hydro Electric proposal...
There is a proposal to put in Hydro Electric Power at Lock and Dam #8 in Genoa. According to a recent meeting this would have the following consequences. Clements Fishing Barge would cease to exist under the current plans. Not only would our business not be there but with their plans in place fishing below the dam would change for the worse dramatically. There is a good chance that the entire area on the west side would silt in or no longer be fishable. The turbines will be placed across 50% of the river starting at the Minnesota side. A submerged dike would put all the current into the middle of the river and during low water in summer and fall, the large roller gates would be shut down so that no current would exist there anymore changing the habits of fish on that side of the river as well. There would be a drastic number of fish mortality in our region with many more becoming injured and thus increasing the mortality rate. The migration of fish would be devastated resulting in less fish in the area as well as some endangered species ceasing to exist. The present plan would economically ruin the areas small towns and villages. This would be the death knell of many businesses and thus the area we have all come to love and enjoy. Nobody is against green technology, but the types of hydro-power being introduced on the Upper Mississippi River are not the answer. Please help us in preventing this from happening. We need everyone and their relatives and friends (pass this on to anyone you know) to please take the time to get on line and contact FERC. This is the organization responsible for licensing. Your comments about the area, the fishing and our eco system will greatly increase our chances at survival. Contact everyone. We have a time limit of July 10th. If you have any ideas for us, let us know.
Submit comments to Ferc with the project #p-13010-000. At www.ferc.gov/docs-filing/ecomment.asp.
There is another site where they make it easy to contact your elected representatives. They are Keep America Fishing Group. Go to this address and make your own comments and it goes to whoever is in your zip code. http://keepamericafishing.salsalabs.com/o/6394/p/dia/action/public/?action_KEY=2611
Ron Kind, 205 5th Ave S., Suite 400, La Crosse, WI 54601
(608) 782-2558
www.kind.house.gov
Tim Walz, 1130 Ĺ 7th stNW, Suite 208, Rochester, MN 55901 (507) 206-0643
www.walz.house.gov
May 20, 2011
Near Record Bass, and more Sturgeons!
Well, the fishing has been really good the last few days. Not a lot of walleye, but a few nice ones, tons of small sauger to keep you interested. White bass, bluegills, a few crappie, lots of northern pike, smallmouth and largemouth bass. We are bringing in sturgeon more by accident as nobody is really fishing for them,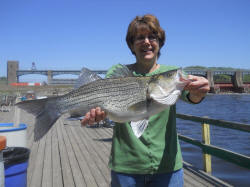 but they are flipping all over the place. Lots of them around this spring. Plenty of sheephead to keep you occupied as well.
Had to show a picture of my almost world record white bass, aka, hybrid. We had to have a biologist look at it to make sure, because every sign on this fish says ďwhite bassĒ. It weighed in at just over 6 pounds. So no record, but a great picture of Karen holding it! She is much better looking and she canít use a camera at all!
April 25, 2011
The water continues to drop quite quickly every day. We are getting walleye, sauger, white bass, sheephead, big carp and now lots of sturgeon. As you know sturgeon love high water, and right now there are plenty being caught, more by accident then anything, but they are around. They would probably being biting even more if the the water was dirty, but it has been clear all through the stages of high water. We are getting the fish all over the barge right now which is great to see. Most yesterday were caught with minnows or a minnow on a jig. Blues and purples were the best colors to use. Still using heavy jigs right now. Some pretty good fishing though.
April 21, 2011
Hey, how about this weather! Snow and more snow, but guess what the river is finally dropping very nicely. Over a foot the last two days and continues to drop. The current is also dropping as the river falls and today guys got quite a few fish. Lots and lots of small fish, but finally some nice ones on the stringer as well as a 24 inch walleye released today. White bass, walleye and sauger were the fish coming in on jigs, and jigs and minnows. Water is still over the island, but with the fish biting it just doesnít matter now.
November 16, 2010
Fishing is still going so strong. So many sauger and walleye being caught. This is by far the best fall we have seen in years. The fish are all thick (healthy), there is a nice balance of walleye and sauger, with more sauger of course. The walleye we have seen going home are in the 15 to 20 inch range, this is fantastic. To top all that off, there are lots and lots of perch coming in as well. What a great end to the season.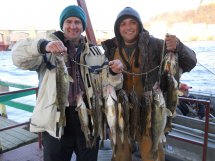 November 11, 2010... Best Fishing in YEARS!
Wow, hard to describe the fishing the last few weeks other than that. A little slower today, by that I mean it took a little longer to get your limit of fish.
Some really wonderful stringers going home of walleye and sauger. Today there were more sauger than walleye. Getting them on jigs and minnows right now. Perch came back in for a final run as well. Getting lots and lots of them on worms towards the south end. The weather has been great and the fishing some of the best we have seen in years. We will wait and see what the weather does, but maybe we will open up again on the weekend after Thanksgiving. Just have to wait and see what goes on the week before. Call or email to find out.
November 2, 2010... FISH AT LAST!
Some really great fishing going on right now. Even though the water level has come up and should start to drop this weekend, the fishing has been tremendous. So many people telling me this is the best fishing they have ever had up here. So many sauger and nice walleye coming in. Minnows are the best bait followed by hair jigs and floating jigs on a river rig. Water has remained clear, no weeds to speak of and lots and lots of hungry fish. Corrine caught a nice sauger next to me that had her jig and minnow in its mouth as well as Denver's plastic body he was using and lost just a few minutes before. The fish are just hungry right now. Hope you can make it up and try this fishing.

We plan on closing the 21st of this month, a Sunday. We are also closing at 5 at night. We always do this in November. Be sure to pick up minnows before you come out. Still a few perch, but far and few between right now. They might pick up again, slowed down after are little hurricane last week. October 11, 2010... Well, the water has been high since JUNE..... fish at last!
October 27, 2009... Fishing is Great as Weeds clear up
Fish were being taken home on Saturday! Walleye and sauger with a few perch sprinkled in for good measure. Most were still coming in on just a river rig and a minnow, but hair jigs were working as well. Floating jigs on a river rig were very effective for walleye and sauger. Color didn't matter too much but a lot of guys were using white jigs or Blue/white jigs this weekend. Sunday was weedy in the morning and cleared up enough to fish in the afternoon.
October 20, 2009... Mark's clarification of his 10/19/09 letter
I sent out an email yesterday about the fishing and my concern about the amount of weeds in the river. It has been explained to me that I should clarify my statement, and they are right. The weeds that we see coming down, won't last, in fact they are already clearing up. What we see is the "by-product" of what the FWS is trying to create for ducks.
The food they want for ducks isn't the problem, its what comes with it that is. The river does need the weed growth for fish, that has always been here. It creates a lot of micro organisms and places for small fry to feed and hide. The problem is that there is just now too much of it and it is clogging up areas for fish to grow, feed and for winter habitat. This has been discussed many times the last several years.
There needs to be more discussion about fishing. Fish habitat in particular. Deeper areas for fish to go in the winter and around the islands they are building. This is what we want to see and hear. More discussion about fishing. If you do contact the Fish and Wildlife Service, please do it in a polite manner expressing your desire to see more done for fishing on the river.
We're FISHING on the Mississippi River! Use the SEARCH form below to find another TEN PAGES of links to fishing stories here on

WWW.GREATRIVER.COM
Custom Search

For more on Fishing the Mississippi River, visit www.greatriver.com/fish.htm