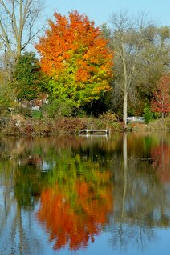 Fall Foliage Hot Lines from greatriver.com
It's fall and few locations in the country offer the same natural beauty as the easel-like bluffs of the Mississippi River Valley. We'll keep you posted on color hot-spots as the season progresses, but you will also find the following sites and hotlines of interest. Peak color periods for each state are noted in paragraphs.
Arkansas. 800-628-8725; www.1800natural.com (late October to early November)

Illinois.  800-226-6632; www.enjoyillinois.com (early October)
Kentucky. 800-225-8747;  (late October)
Minnesota. 800-657-3700; www.exploreminnesota.com (late September to mid-October)
Missouri. 800-778-1234; www.missouritourism.org (mid-to-late October)
Tennessee. 800-697-4200; www.state.tn.us/tourdev/ (early November)
Wisconsin. 800-432-8747; www.travelwisconsin.com (early through mid-October)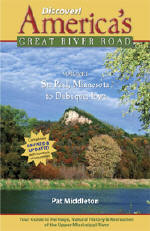 And don't leave home without the indispensable guides to Mississippi River and Great River Road travel!
Every volume of DISCOVER! America's Great River Road is filled with a variety of fascinating Mississippi River fact and lore.  Photos, maps, charts!  All Volumes contain info on birding, wildlife viewing hotspots. Each highlights Geography, interpretive history and natural history attractions along the Great River Road.  SAVE $10!!!   Purchase ALL FOUR VOLUMES of Discover! America's Great River Road… St. Paul, Minnesota, to Venice, Louisiana, individually signed by the author.   Four guides for $62.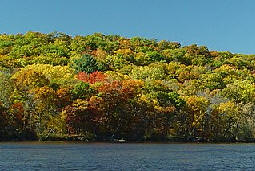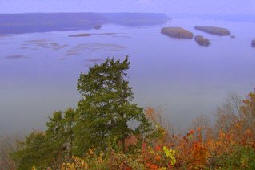 Now Available! Quality 5×7 photo note cards featuring fall  color on the Mississippi River. Visit our online bookstore to see more options!
Return to www.Greatriver.com and the Mississippi River Home Pag!