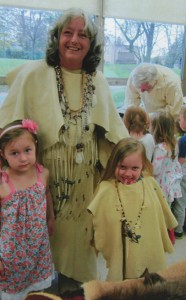 Rich and I had great fun recently presenting as our 1830s characters to the Congregational Preschool in La Crosse!
As "Mrs. Phelps, I talked about my life in wild Iowa and displayed furs traded by members of the Keokuk tribe… fox, mink, beaver, deer, and, for fun, a Kangaroo!
"Old John" found an avid audience for his bird calls, clam shells, and turtle skeleton. Fun for Everyone!!
     "We liked the bird noises."  "The animal claws were neat!" "I liked the bunny purse." "The skins were so soft!" "We liked looking at shells."