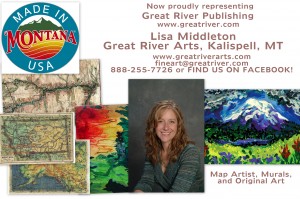 For those who have noticed our promotion of our new line of historic OLD PACIFIC NORTHWEST maps, we are pleased to introduce our Map Artist, Lisa Middleton! Lisa's home base is Kalispell, Montana. We are pleased to note that her art was recently designated as a "Made in Montana" brand. This is a juried brand that carries a great deal of prestige for artists in the Northwest. Congratulations, Lisa!!
Many of Lisa's maps of the old Pacific Northwest were produced by Cartographer, John Bartholomew, a significant Cartagrapher from 1831-1893. Bartholomew learned his trade from his own father. His son, John George Bartholomew (1860-1920) brought the firm to prominence. Eventually five generations were involved in the company trade. This Edinburgh, Scotland, map company produced a series of detailed American state maps which become even more stunning when painted by Lisa Middleton.
Lisa's current collection includes many Bartholomew maps of the west produced in the 1870s to 1890s. The Lake Erie, Montana, and Idaho maps were all originally published by John Bartholomew. We recognize them because the "Scale of Miles" is in "English Miles." Maps may be labeled "Bartholomew," "John Bartholomew, or "Bartholmew and Company."
Lisa will be presenting her product to Western retailers at the "Made in Montana" show in Great Falls, Montana, March 20-22. Please do drop by and see this fresh historic map product! See all her Mississippi River and historic Pacific Northwest maps at www.greatriver.smugmug.com/Art.