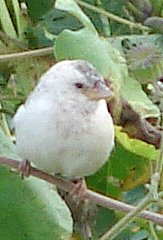 Well, now that our Sandhill Cranes, bluebirds, red-winged blackbirds, Kestrel, and Canada geese are back in the valley, my observations on snow country must suddenly give way to spring. But not before I share some pictures of one of my favorite "collector" items…Every so rarely a genetic WHITE PHASE appears in animals that are normally not white except as albinos. But the two pictures shown here are not albinos, but a "white phase" black bear and a "white phase" sparrow.
I've also heard of river islands with concentrations of "white phase" muskrats, and "white phase deer", and of course, white phase buffalo.  I'd love it if you could share photos of your "white phase" creatures for use in a future feature article.
Any way, the short story is that these "white phase" or "Spirit" creatures are expressing recessive genes that helped to protect the species during the ice ages. In Wisconsin, a northern game warden told me that in his life time, he's only heard of two white phase bear cubs… both in the vicinity of Superior, Wisconsin. Hmmm… makes sense. The same game warden has seen only one white phase sparrow… nearly 40 years ago. I wonder if the white phases of various birds of prey are also expressing recessive genes related to living along the edge of glaciers?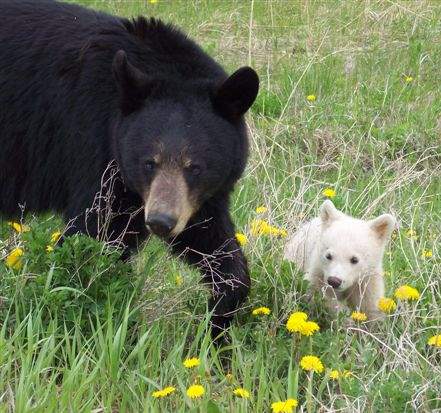 Above is a very rare "white" black bear cub. Also known as Kermode or "spirit" bears. Normally found only in areas where the recessive white gene was encouraged by small populations cut off from the larger populations, probably by glacier formations. The white gene would have been advantageous to bears living on the edge of the snowfields.