Special Waterway Cruises Report
For many people, a visit to the Galapagos Islands off the coast of Ecuador hovers near the top of their travel "bucket list"… my advice is
-Do it NOW

DO IT NOW…
One criteria we have for our travel "bucket list"  is to visit the most fragile destinations FIRST, and the Galapagos is certainly one of these "endangered destinations." 
The Galapagos National Park has become a laboratory for how to manage tourism in ways which protects a unique endemic and indigenous wildlife population. As a result, however, many regulations proposed for 2012 cruises will impose significant limits on how many islands visitors can access in one week.
According to press releases, the positive spin is that "New Itineraries Developed to Comply with New Galapagos National Park Regulations Will Enhance Experience While Minimizing Visitor Impact."
In fact, the impact on the traveler is that an one-week cruise will soon require a  two-week cruise to see all twelve key islands and wildlife species that are on your list. With cruise tickets running at least $3500 per week, shopping for discounts will become increasingly critical.
We've received some sample itineraries from cruise operators which would come into effect under the new regulations.  There are some 58 islands in the Galapagos archipelago, which means the park is making a concerted effort to more efficiently disperse the 140,000 visitors currently allowed into the park each year.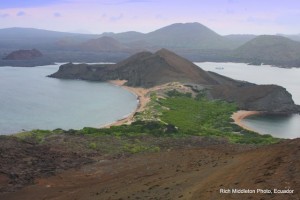 Passengers who chose Itinerary A might visit the Southern & Central islands stopping at La Galapaguera, Cerro Brujo, Punta Pitt on San Cristobal, Punta Suarez and Gardner Bay on Espanola, Punta Cormorant, Post Office Bay and Devil's Crown on Floreana, Humedales, Wall of Tears, Sierra Negra on Isabela, Bartolome, Black Turtle Cove and South Plaza Island as well as the highlands of Santa Cruz.
Passengers who book Itinerary B might visit the Northern & Western islands stopping at Playa Ochoa, Leon Dormido in San Cristobal, Prince Philips Steps and Darwin Bay in Genovesa, North Seymour, Bachas Beach, Darwin Station on Santa Cruz, Punta Espinoza in Fernandina, Tagus Cove, Elizabeth Bay and Urbina Bay in Isabela, Puerto Egas on Santiago, Santa Fe and Rabida Island.
By visiting in the remaining months of 2011, it is still possible to visit all twelve key islands throughout the archipelago, and see all the most desirable wildlife and waterfowl within the confines of a one-week tour.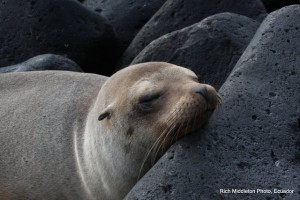 We recently returned from a cruise on the 32-passenger classic cruising yacht, Galapagos EVOLUTION (owned and operated by Quasar Expeditions). Quasar  was one of the very first cruise/tour operators in the Galapagos. The naturalist on our cruise was born in the Galapagos and had over 20 years of guiding experience. We thought they were a prime example of the "ethical operator" in the Galapagos. Quasar made planning our Ecuadoran visit simple. We found our visit to be very comfortable, safe, and memorable.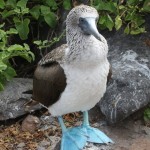 Each day of our EVOLUTION cruise involved two guided land hikes and two water-based excursions. Each island is unique in its geologic formation, and several have one or more endemic populations (found no where else on earth). The sea life among the islands is incredibly rich and each day involved snorkeling, dingy rides and kayaking.
Among these daily excursions, we had ample opportunities  to see iconic species of wildlife that make Galapagos famous: giant tortoises, penguins, frigate birds, boobies, flamingos, Darwin Finches, albatross, flightless cormorant, marine and land iguanas, lizards, many varieties of sea birds, whale, dolphins, sea turtles, sharks and sea lions…. and, yes, we did see hammerhead sharks!
Upcoming blog entries will share our Galapagos experiences with you!! So please return and join our conversation!
We also have some 30+ waterwaycruise destinations featured in our #1 rated WATERWAY CRUISE REPORTS at www.greatriver.com/waterwaycruises (click to visit!)
Click here to return to the MISSISSIPPI RIVER HOME PAGE at www.greatriver.com