WATERWAY CRUISE REPORT
Colored letters indicate a link to more information


Let me say right up front that not since the old Delta Queen Steamboat Company (with whom I did at least 40 cruises as guest lecturer) have I felt such loyalty to a cruise operator.  Quasar Expeditions, like the Delta Queen Steamboat Company, operates on passion… not for their business, but for Ecuador and the Galapagos, and for their GUESTS.
For most of us, the biggest puzzle pieces in putting together a Galapagos cruise are… "Who shall I travel with, and, when should I go?"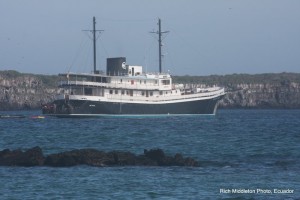 Once we discovered the 32-passenger Galapagos EVOLUTION and Quasar Expeditions, it was clear sailing… especially in hind-sight…everything about this cruise and our eventual visit to the Andes highlands turned out to be immensely satisfying!
December to May is considered to be prime time, weather-wise, for visiting the Galapagos islands.  Our May visit featured rich, green plant-life and fair skies. Every bird species, from finch to Albatross, lizard to seal lion seemed to be nesting, mating, and feeding with abandon. But, honestly, most species in the Galapagos are opportunistic when it comes to reproduction… one month is as good as another for attracting a mate and raising a brood.
WHO to travel with is another matter.
A rule of thumb, is that smaller vessels rate better access to islands in the Galapagos. But we didn't really want to risk chartering a small sailing boat with minimal amenities and an unknown operator. So we had an eye out for a slightly larger vessel, with a luxury tradition. With 32-passengers, a sleek classic yacht design, a modern, informative web-site, and luxury ratings for meals and accommodations, the EVOLUTION seemed to be our vessel.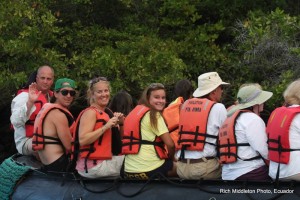 Quasar Expeditions is one of the oldest cruise operators in the Galapagos. The family has offered cruises of the Galapagos since the 1980s and offered us trouble-free travel planning… both cruise passengers had the advantage of knowledgeable and passionate naturalists, excellent food, and superb access to the islands. Quasar also organized our week-long land tour in the Andes highlands around Quito… Our driver and English-speaking guide took a personal interest in our satisfaction from the moment they picked us up at the airport to the moment they waved us off the Tarmac.
While Quasar Expeditions is an Ecuadoran company, every contact we had was with an English speaking individual.  From website to office staff, the company is positioned specifically to deal with English-speaking populations.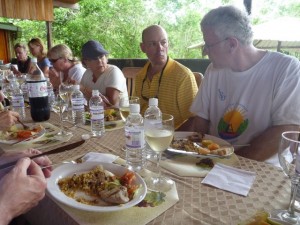 "The understanding that we are an English-speaking company makes it easier for us to
garner the finest crew, naturalists, and to meet the expectations of an English-speaking clientel," I was told. "Plus, we don't just want you to come and enjoy the islands, we want you to leave the EVOLUTION with a new cadre of FRIENDS. That just happens more easily if everyone speaks the same language."
Aboard the EVOLUTION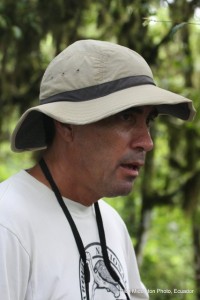 Alex was our preferred naturalist… mainly because of his love of the islands, and because of his 20 years of experience! But for those whose personal perspective is that this was a "vacation" and no "mandatory learning" was allowed, we had a second naturalist whose main focus was "learn a little" and have a great time! Every Galapagos naturalist today is professionally trained to interpret and protect this unique natural heritage.
On my first open ocean snorkeling excursion, I panicked and clung to the ladder.
"Alex," I urged, "don't wait for me. I'll just hang here for a while."
"I don't go anywhere unless you decide to come with me, or get back in the boat," he explained. "I don't leave you in the water alone." I felt absolutely safe with Alex from that point forward.
Snorkeling, panga rides, and kayaking were all available options for daily water-based activities. Snorkeling was by far the most popular… Turtles, white-tipped sharks, swimming with sea lions, and even "circling-up" when visited by several hammerhead sharks provided highlites on our EVOLUTION cruise. Oh yes, and we were joined by a pod of leaping dolphins during one of many memorable panga excursions!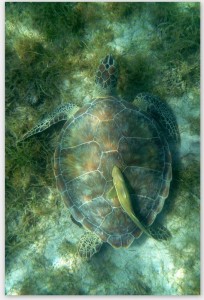 "I really could not believe it was ME out there snorkeling with Hammerhead sharks!" one Minnesota passenger exalted.   And sea turtles were ABUNDANT in the clear waters!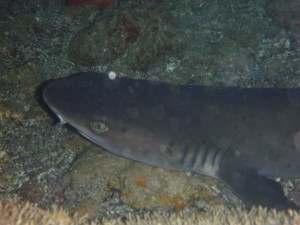 Twice each day, the naturalists led us ashore for an island hike. An afternoon nap was mandatory, so that everyone had the energy to do the really important stuff… like hiking among the booby's and iguanas, and magnificent Frigate Birds.
The AMAZING t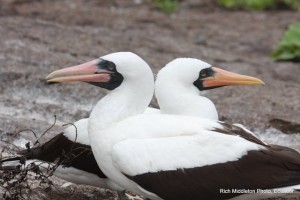 hing is  that these creatures truly have no fear of humans!! It was as if we had entered into the Garden of Eden.
While it is not necessary to  be   a student athlete to visit the Galapagos Islands, for the first time on any cruise, we found ourselves to be among the older visitors, rather than the younger!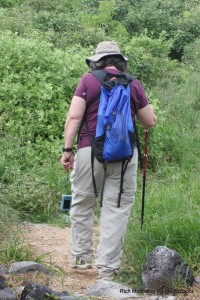 It IS necessary to be able to hike for a mile or two… some of it over rocky lava surfaces, or up and down short steep slopes.
"Wet landings" are common, so be prepared to swing your legs over the side of a rubber panga!
I did bring two pieces of "gear" that I found incredibly useful…trekking poles that could be unscrewed to fit in a small carry-on suitcase, and lightweight Salomon's "Amphibian" style hiking shoes with webbing. The trekking poles worked great when we were on lava rocks.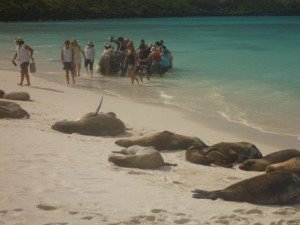 The specialized water/hiking shoes were great for wet landings. The webbing meant shoes dried quickly. The hiking soles stuck like glue to wet rock and afforded comfortable cushioning for the rest of the hike.
Casual dress is definitely the order of the day for this cruise.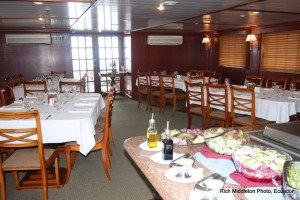 The Dining Room of the EVOLUTION offered hot coffee at all hours, cookies, tea, and water or Sodas. Our hotel manager prided himself on serving excellent meals, with fully dressed tables at every meal. Seafood, meats, and vegetables often with an Ecuadoran flavor greeted us at every meal.
"This is a wonderful opportunity for me," he commented. "I really put everything I have into our meals and presentation."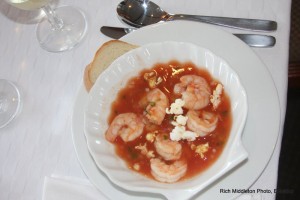 For my part, I often chose some of the more casual tables on deck, overlooking the bays and coves of the islands! Birding was excellent, even from the boat. Frigate birds often lined up on the various overhead lines of the vessel.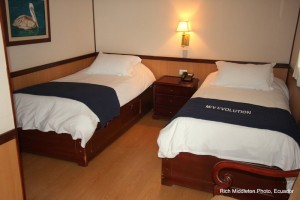 Life on board the EVOLUTION was easy. Our cabins were immaculately clean. In seven days, I never once crossed paths with our housekeepers!
… the large hot tub , and the lounge were popular gathering spots.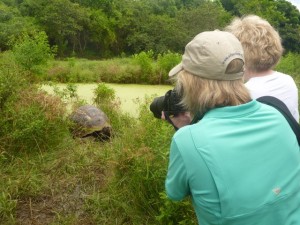 Thank you for following our series on cruising the Galapagos Islands!….  But there is more to Ecuador than the Galapagos. 

You may decide to add on a visit to the Andes highlands, or the Amazon Jungle. Please check back for a review of our land tour in the highlands.
Meantime, my best advice is to consider planning now for your Galapagos tour…
 Return to WATERWAY CRUISE REPORTS
Return to www.greatriver.com  THE MISSISSIPPI RIVER HOME PAGE
Return to RAMBLIN' ON