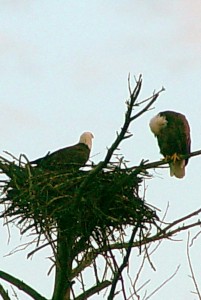 Nov. 18… Upper River is shutting down! Pretty much ice-covered. I remember years when I was riding the Steamboats on Nov. 17th!  This morning I saw 9 eagles clustered around a small area of open water. This afternoon…. no more small areas of open water!! Eagles are abundant… I must have seen 20 in a 5 mile stetch this morning… but the river tonight is pretty well sealed up. Eagles will be moving to open water just below the dams. Swans and Pelicans evaporated! Waterfowl are still migrating through looking for open water!
Eagle nests are now clearly visible along the river.
………………………………………………………..
Nov. 10……. Have been driving along the Wisconsin shore north and south of La Crosse. Lots of Swans, and other migrating waterfowl!  Eagles are also ABUNDANT as the river begins to freeze up before our eyes. My hope is that it will all open up again once the polar vortex is well out of the way, but meanwhile waterfowl and Eagles are abundant in the open water.
As I've mentioned earlier, after my river weeks on the American Queen, it is the adult American Bald Eagles that seem most abundant to me. Not nearly the number of juveniles that I've seen in late fall in past seasons. http://www.greatriver.com/wordpress/wp-content/uploads/2013/01/watermarked-eagles-300×86.jpgWould love to hear some comments!