Since the early 1990s, the Iowa DNR, has recorded the population of wintering American Bald Eagles during the Bald Eagle Midwinter Survey that takes place in the first two weeks of every year. The number of Eagles found during the survey has climbed steadily so that  in 2007 that the Bald Eagle was doing well enough to be removed from the Endangered Species List.
Eagle numbers in the count are expected vary from year to year. A total of 1,939 Bald Eagles were counted during the 2016 Bald Eagle Midwinter Count in Iowa, which was below the previous 10-year survey average of 3,064.3.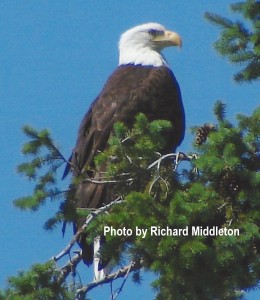 An eagle's nesting territory is considered to be a 1 mile radius which is defended by a pair of Bald Eagles for breeding purposes. A pair of eagles, we've learned, may use or maintain more than l nest within its territory.
Since 1977, approximately 863 bald eagle territories have been reported to the Iowa DNR. In 2015, the state hit the milestone of having at least one Eagle's nest reported in all of Iowa's 99 counties. Along the Mississippi River, Allamakee County, with 144, has the highest number of nests reported, followed by Clayton County with 71.
Within the active nesting territories, 77 of them are located on the Iowa portion of the Upper Mississippi Wildlife Refuge and 335 of them are spread throughout the rest of the state, particularly along the Des Moines River.