© Pat Middleton… To see picture captions, hold your cursor over photos.
Recent landslides after rains of 9-11 inches have many of us reminiscing about past experiences of landslides, rockslides, and flooding along the Mississippi River. Below is my own memory from very similar flooding in 2007.
Enter FLOOD in the Search button to bring up an interactive map that shows flooding at any moment along America's major waterways as well as stats and Chronologies from previous years..
August 20, 2007
"Mom, you missed the HUUUgest Storm!"
"Mom, you have to hear what's happening. I'll read it right from the newspaper!"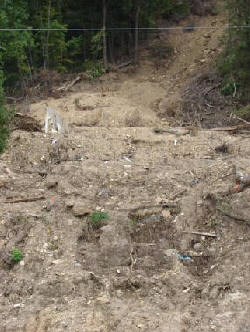 These two phone calls from my daughter during our recent Alaska cruise brought news that had not yet appeared on the Weather Channel…  A thousand-yearrainfall of 11-15" over two days had left the Coulee country from Winona, Minnesota, to Genoa and Viroqua, Wisconsin, virtually impassable. Mudslides, a few carrying homes with them, littered major and minor roads. Bridges were awash, as creeks that normally carried a 20-ft creek flooded to 100 ft, or as in our case, flooded entire valleys. Household water wells filled with mud and bacteria. Waterfalls gushing over the rocky bluff faces turned normally stable hillsides into a gelatin consistency that began an unstoppable flow down the 600 ft. high bluffs. Canyons formed where there were none on August 18.
"Pat, there were not even scars in the places where vast, denuded ravines now show on the bluff sides," a friend told me over the phone. "You won't recognize the bluffs. Such devastation!"
My friend was able to dig many of his beehives out of the mud, but he lost many more. He couldn't believe that many of the hives he dug out still had bees alive in them.
August 22, 2007
60 and 70-mile an hour winds and rain, more rain, blow through Vernon County, adding insult to injury as counties began to fathom the extent of damage to roads, bridges, and homes.
September 7, 2007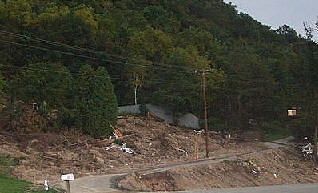 County road workers have cleared most roads and have started the process of moving mud out of and reshaping the deep drainage ditches that normally suffice to redirect rainwater and an occasional boulder. But mudslides still litter the roadsides and valley floors. Folks are still out, clearing, hauling, drying, filling out forms, sanitizing wells, basements. What is so amazing, even today, is the vast scope of the damage. Not just here or there, but entire neighborhoods whose residents do not qualify for flood damage or earthquake, though their homes were moved off foundations. Or the bluffside collapsed in their yards.
Twenty-five dump truck loads of mud were removed from one yard in the Goose Island area. It took nearly a week for road crews to clear Hwy 35 from Goose Island to Stoddard of mud and debris.
MORE!
Flood Stats for 2007 and Geology 101… why Land slides HAPPEN!
When Boulders Roll … Land slides on the River
Return to the Mississippi River Home Page at www.greatriver.com