[adsenseyu1]
With 70 degree days predicted for early next week, we will be seeing more and more of our returning songbirds and waterfowl. Sandhill Cranes, robins, red-winged black-birds, starlings, bluebirds and such are already singing, in addition to Cardinals, titmice and other year-round residents. Sandhills are still very quiet, so they don't seem to be claiming their nesting territories yet. Send us your comments!!  Click here to see our birding archive on the Ramblin' On blog. 
With so little snow this winter, spring flooding is unlikely this season. To see an interactive flood map, as well as past flooding accounts, click here.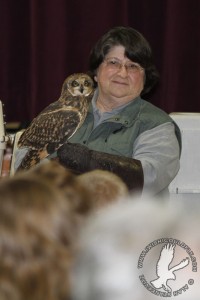 The spring 2012 International Festival of Owls was held in Houston, Minnesota, last weekend. It is another harbinger of spring! (Snowy Owl pix, from Alan Stankevitz is left.)
[adsenseyu2]We had a beautiful barred owl in our backyard early one morning last week. Hawks are paired up and bald eagles are nesting. I'll be watching for the return of white pelicans next… they follow the opening of the Mississippi River… perhaps looking for fish kill as the ice breaks up.
We have featured WHITE PELICANS, EAGLES and other large waterfowl for many years on www.greatriver.com
Please visit our dedicated Birding Index here at Greatriver.com  It includes a long history of arrival dates for the sandhill cranes in the Upper Mississippi River valley.