New from Michael Gillespie, THE PHANTOM BRAKEMAN and Other Old Time Railroad Stories from the Era of Steam
ISBN 978-0-9711602-6-2, 172 pages, $19.95. Also available to museums and gift shops.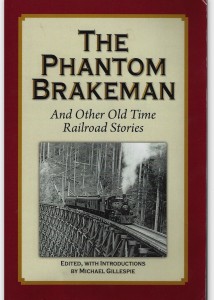 Please call 608-457-2734 to ORDER your books for immediate shipping.
As with all our books by steam historian, Michael Gillespie, this collection is full of historic photographs, entertaining tales from the days of steam railroading, and witty, insightful editorial commentary!
If you enjoyed COME HELL OR HIGH WATER, WILD RIVER WOODEN BOATS, or OLD TIME RAILROAD Stories, you will want to add this quality book to your steam collection.
Railroad buffs will also enjoy our broad selection of gift prints of Railroad maps! Please visit greatriverarts.com > SHOP and then enter railroad maps into the SEARCH button. We have maps for many individual lines and states. Also, all maps in the 1906 series include rail lines from that time frame.