For the moment, at the peak of the 2020 Coronavirus pandemic, dreaming is all we can do responsibly!! but there are many glorius spring island destinations we can dream of!  
For more great ISLAND DESTINATIONS, both within and without our US Borders, click here to see maps and destinations from map Artist, Lisa Middleton, at  greatriverarts.com
WATERWAY CRUISE REPORT
The Galapagos Island cruise reports are among our most popular Waterway Cruise Reports.. 

For most of us, the biggest puzzle pieces in putting together a small boat cruise are… "Who shall I travel with, and, when should I go?" 



Original fine art map of the Galapagos Islands, by Lisa Midleton. Greatriverarts.com  Add some magic to the walls we must look at just now!! Please Click this link for details.

Our May visit featured rich, green plant-life and fair skies. Every bird species, from finch to Albatross, lizard to seal lion seemed to be nesting, mating, and feeding with abandon. But, honestly, most species in the Galapagos are opportunistic when it comes to reproduction… one month is as good as another for attracting a mate and raising a brood. And any time you have the opportunity to visit these amazing islands will be perfect for you!!!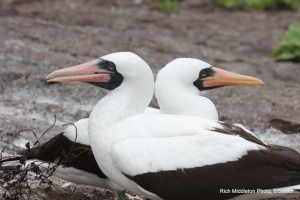 WHO to travel with is another matter. A rule of thumb, is that smaller vessels rate better access to islands in the Galapagos. But we didn't really want to risk chartering a small sailing boat with minimal amenities and an unknown operator. So we had an eye out for a slightly larger vessel, with a luxury tradition. We discovered the 32-passenger Galapagos EVOLUTION and Quasar Expeditions, it was clear sailing… especially in hind-sight…everything about this cruise and our eventual visit to the Andes highlands turned out to be immensely satisfying! With 32-passengers, a sleek classic yacht design, a modern, informative web-site, and luxury ratings for meals and accommodations, the EVOLUTION seemed to be our vessel.
 Quasar Expeditions is one of the oldest cruise operators in the Galapagos. The family has offered cruises of the Galapagos since the 1980s and offered us trouble-free travel planning… both cruise passengers had the advantage of knowledgeable and passionate naturalists, excellent food, and superb access to the islands. Quasar also organized our week-long land tour in the Andes highlands around Quito… Our driver and English-speaking guide took a personal interest in our satisfaction from the moment they picked us up at the airport to the moment they waved us off the Tarmac.
While Quasar Expeditions is an Ecuadoran company, every contact we had was with an English speaking individual.  From website to office staff, the company is positioned specifically to deal with English-speaking populations.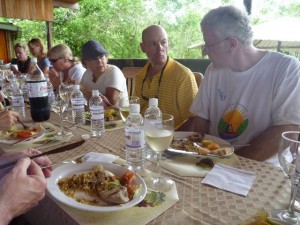 "The understanding that we are an English-speaking company makes it easier for us to garner the finest crew, naturalists, and to meet the expectations of an English-speaking clientel," I was told. "Plus, we don't just want you to come and enjoy the islands, we want you to leave the EVOLUTION with a new cadre of FRIENDS. That just happens more easily if everyone speaks the same language."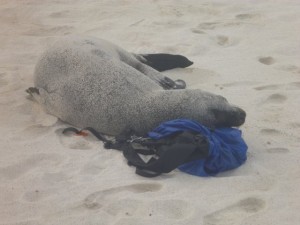 Click here to see MORE about the unique creatures and activiities on the Islands!
Lisa's beautiful maps are also available on Textiles!! If you are planning a wedding, family reunion or other activities on a tropical island, textiles make great gifts for the whole group!!  Click this link to see Options!