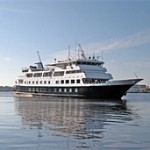 Starting to hear that two well-known cruise lines are preparing to offer river boat cruises on the Mississippi River next year!
Cruise West is renaming 100-passenger Spirit of Glacier Bay to Spirit of America and starting Mississippi cruises in 2011.
Most Mississippi cruises will go from New Orleans to Memphis or from Memphis to Nashville, with the first cruise being New Orleans to Memphis March 19, 2011. Other introductory cruises are in April and May.
Published fares: $3,499, $3,799, $4,299, and $5,099 per person double occupancy. Discounts may be as high as $600/person.
Cruise West suggests that the Spirit of America may also be found on the East Coast, the St. Lawrence Seaway, and the Great Lakes. We'll keep you posted as we learn more.