We're excited! Great River Arts, our historic map publisher, is gradually taking over our collection of quality Mississippi River and they are making a special offering all four Volumes of Discover! America's Great River Road and the 1887 "Father of Waters"  Historic Reproduction of the full length of the Mississippi River. 
This is an opportunity for you to save more than $30 on our most popular Book/Map Art Bundle!

Perfect for Gift Giving! Need extra maps? Everyone who loves our 1887 map by Lisa Middleton will love Discover! America's Great River Road, our comprehensive guide to life along the river for their favorite section!  Just CLICK HERE to purchase additional maps!
All Great River books can be ordered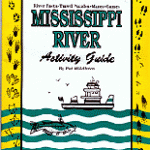 individually as well. CLICK HERE to go Straight to BOOKS on our new Shopping Cart at Great River Arts.
Let us know if you have any questions!