QUESTIONS! QUESTIONS!
For Jack, who wants to know more about all the tributaries of the Mississippi River: how many there are,  their names, and how long they are!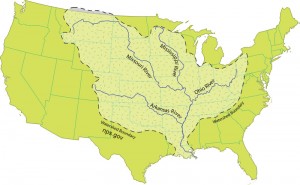 There are some 250 tributaries of the Mississippi which drain a total area of more than 1,247,000 square miles–one third of the nation's landmass–extending from the Allegheny Mountains in the east to the Rocky Mountains in the west!
Remember the Mississippi River Flood of 1993? It wasn't just the Mississippi River flooding that wreaked havoc, it was that all those tributaries flooded as well! At one point, the volume of water flowing past St. Louis was eleven times the volume of Niagara Falls!!
We start here with quick facts on the Mississippi River and several navigable tributaries! Please follow links for a little more depth of historical interest and to see

our collection of hand-painted maps!
The Mississippi River, from its source at Lake Itasca in Minnesota, to the Gulf of Mexico, is approximately 2,348 miles long. The combined reach of the Missouri-Mississippi Rivers is 3,741 miles–a length exceeded only by the Amazon and Nile rivers. The Mississippi River has shortened by several hundred miles since the days of Mark Twain. Even today it varies 30-50 miles each year.
The widest navigable part of the Mississippi is Lake Pepin, on the Upper Mississippi, where it is approximately 2 miles wide. The average current flows from 1.2 miles per hour nearer Lake Itasca, and about 3 mi per hour nearer New Orleans.
Our Mississippi River Ribbon Map has been a best-selling Gift for many years. Lisa now offers her own custom ribbon map designs of both the OHIO RIVER and the Missouri River. Please click on any map image for more info on the map or the tributary. Or PHONE 888-255-7726 to order any map. Mention you saw it on greatriver.com for a one time 10% discount!   Click on map images for more info on the tributaries.