Anyone out to enjoy the last vestiges of fall color along the Upper Mississippi River might enjoy keeping a pair of binocs handy. Some of our larger raptors and waterfowl are on the verge of departing the area and it is a great opportunity for viewing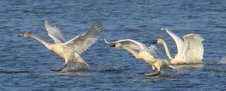 relatively large congregations of Egrets, Great Blue Herons, American White Pelicans. Small groups of Tundra Swans are filtering onto pool 8 and likely pool 7 already. Please comment as to where you are seeing swans.
Eagles are also abundant as the summer and winter Bald Eagles make the winter switch. Our summer residents are soon leaving for permanently open water closer to the mouth of the Ohio, Eagles from the north are moving down to their hunting snags located at the pools. Are you seeing a Golden Eagle? It's possible!

Saw 14 Eagles flying between Hwy 35 and a bluff top near Genoa on 10/29/15. Others have also reported seeing large and small clusters. Listen for their chittery calls as they interact!
Please use the Search option at the top of the page to read more from our RAMBLIN' ON Blog about Tundra Swans and Eagles on the Upper River.